"I never want to be beholden to a vote of some board or politics or anyone else."- Kevin Plank
Sometime last month, Under Armour (UA, UAA) posted the latest in a long line of restructuring updates (fifth within a year), with the 2018 restructuring program now running at $200m-$220m (from $190m-$210m). That's another $10m to the growing pile of one-offs, and at some point, some tough questions will have to be asked. In the meantime, here's UA's reasoning behind the latest update:
"Following further evaluation, the company has identified approximately $10 million of cash severance charges related to an approximate 3 percent reduction in its global workforce."
With the latest update on the board, I think it's an opportune time to shed some light not just on the latest restructuring attempt, but also the various governance deficiencies within UA which have enabled the never-ending restructuring "one-offs".
Don't Trust the Restructuring
With the $10m severance one-off firmly in the guidance, here's how adjusted guidance gets impacted:
| | | |
| --- | --- | --- |
| | FY18 Pre-update | FY18 Post-update |
| Op Income (Loss) | $(50)-(60)m | $(60)m |
| Adj Op Income (Loss) | $130-160m | $140-160m |
| Adj EPS | $0.14-0.19 | $0.16-0.19 |
(Source: Under Armour)
Here's how the math works – we have a $10m charge which brings guided (actual) operating income down $10m and (adjusted) income up by $10m – but only at the lower end. Somehow, the market was fooled into believing this was positive.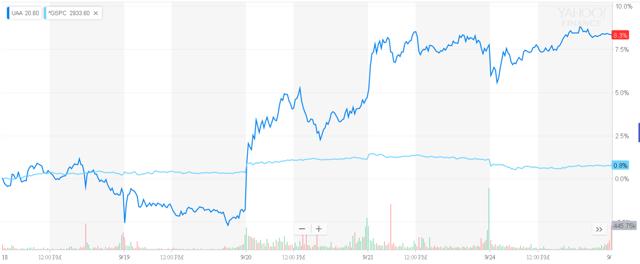 (Source: Yahoo Finance)
It appears UA has yet again, adjusted its earnings to paint a more optimistic picture. Aside from the fact that the $10m adj op income raise at the low end ($0.02 raise at low end adj EPS) from severance is hardly positive, there's two key takeaways the market seems to have missed – 1) the top end of guidance was not raised and 2) UA did not update revenue and gross margin guidance. The former likely implies that UA was heading for the low end of its initial guidance while the latter indicates little improvement from the demand side.
But that's not all. Here's UA's last word on the updated guide:
"The reduction in workforce…represents the final component and update to the company's 2018 restructuring plan"
If that sounds familiar, one only has to look back to the 4Q17 call when management made a similar promise:
"Also, important to note that we anticipate the majority of our restructuring to be completed in the first half of 2018"
Immediately after, UA announced a new 2018 restructuring program which has ballooned from $110-130m to $200-220m as of Sept . Here's a nice compilation by Macquarie:

Notably, that brings total restructuring costs since 2017 to a staggering $350m at the upper end. Here's the thing though – UA has been using some form of restructuring as a vehicle to adjust earnings for a very long time now. Pre-2017, explanation for the one-offs ranged from the Dickerson era ("product flow" and "improving customer service levels") to the Molloy-era (everything from "promotions" to "foreign exchange rates").
Here's how the rationale behind the elevated inventory was explained while Dickerson was CFO:
| | |
| --- | --- |
| Event | Dickerson-era Updates |
| | "First, on the near term — over the course of the rest of this year and through 2016, we are focused on delivering our products to our consumers more timely, specifically on key seasonal floor set dates. This focus specifically in comparison to some prior years' challenges will result in elevated inventory growth rates over this time frame to flow product earlier" |
| | "Switching over to inventory, as we outlined in our Investor Day, over the next few quarters we are focused on delivering our products to our consumers more timely, specifically on key seasonal floor set dates. We anticipate this will result in elevated inventory growth rates over this period to flow product earlier." |
| | "Finally, inventory. As we previously stated, our focus is on delivering our products to our consumers in a more timely manner and improving our customer service levels. As a result, we continue to expect inventory growth rates to be slightly elevated above the revenue growth rate in the front half of 2016, with growth rates expected to level off and be in line with revenue growth in the back half of 2016." |
(Source: Under Armour)
Chip Molloy was a lot more straightforward as CFO – here's how his narrative evolved:
| | |
| --- | --- |
| Event | Molloy-era Updates |
| | "As previously mentioned, the strategy to improve wholesale, customer service levels resulted in elevated inventory investments beginning in the second quarter of last year. We expect the growth in inventory will be more in line with sales as we begin to anniversary the strategy during the second quarter of this year" |
| | "Inventory for the quarter increased 30% to $1.1 billion, compared to $837 million at June 30, 2015. As we noted last quarter, we are beginning to anniversary the strategic inventory investments that we implemented in the second quarter of last year, and expect the growth in inventory to remain relatively in line with sales throughout the remainder of the year" |
| | "In the quarter, gross margin declined more than planned, driven predominantly by higher-than-expected promotions, both the volume and rate of liquidations, and foreign exchange rates. Despite liquidations having been a headwind on margin rates for most of this year, we now believe that our inventory position is healthier and liquidation should not have the same negative impact moving forward" |
| | "In our efforts to manage the brand appropriately for the marketplace, we are planning for inventory growth to be higher than revenue growth for the first three quarters of 2017 and coming more in line with revenue growth during the fourth quarter." |
(Source: Under Armour)
The difference between then and now is that UA's restructuring has expanded far beyond inventory one-offs – the asset and labor cost base has also been trimmed substantially.
| | | |
| --- | --- | --- |
| | 2Q18 | Sep-18 |
| Pre-Tax Restructuring & Related Charges | $190-210m | $200-220m |
| Cash Charges | Up to $155m | Up to $155m |
| -Facility & Lease Terminations | Up to $75m | Up to $75m |
| -Contract Termination & Other | Up to $80m | Up to $90m |
| Non-Cash Charges | Up to $55m | Up to $55m |
| -Inventory | Up to $20m | Up to $20m |
| -Asset Impairment | Up to $35m | Up to $35m |
(Source: Under Armour, Author)
But it may not be enough. In a follow-up with an analyst, management disclosed the following – 1) "the full fruits of the new Frisk era" are "not expected to hit full stride until FY20", and 2) "Construction costs for UAA's NYC Flagship have been pushed back until at least late 2019 (and potentially 2020)." In other words, FY19 is going to be another restructuring year for UA. That makes it the fifth consecutive restructuring year.
With high-flying expectations already embedded in next year's consensus expectations ($0.31 FY19 EPS; +63% YoY implied), it will be interesting to see how the market reacts when the news finally hits.
Don't Trust the Disclosures
Unbeknownst to most, the restructuring update actually came on the heels of a curious letter from the SEC. Here's the two comments the SEC noted in its letter to UA:
Comment 1:
"You state that as of December 31, 2017, no impairment of goodwill was identified and the fair value of each reporting unit substantially exceeded its carrying value. We also note that your Latin American segment has experienced operating losses in the past three years."
Comment 2:
"You present a full non-GAAP income statement for the quarter ended March 31, 2018 when reconciling non-GAAP measures to the most directly comparable GAAP measures. Please tell us how your presentation complies with the guidance in Question 102.10 of the Non-GAAP Compliance and Disclosure Interpretations"
The letter (dated May 23 2018) required a response within 10 business days, a window which UA was unable to meet.
"The comment letter requires that the Company respond within ten business days or inform the Staff when the Company will respond. As discussed with Ms. Suying Li, we hereby request an extension to respond by no later than June 15, 2018. This additional time will enable the necessary internal review related to the Company's response to the comment letter"
Now, on its own, this wouldn't be a big deal. But a look into UA's SEC correspondence history indicates a curious pattern – barring one occasion, UA has never been able to respond within the allotted window. In fact, UA has almost always needed 20-30 day extensions.
| | |
| --- | --- |
| Query Year | Request for Extension |
| May 2011 | ✓ |
| Aug 2011 | ✓ |
| Oct 2011 | ✓ |
| Dec 2011 | ✗ |
| May 2017 | ✓ |
| May 2018 | ✓ |
(Source: SEC)
Clearly, the SEC is asking some tough questions.
When they did finally answer though, UA's (delayed) reply to SEC comment 1 provided some insight into how they've been accounting for their international units.
Per UA management, despite the LatAm business posting three consecutive years of losses, "the fair value of the reporting unit exceeded its carrying amount by approximately $130.3 million". If that boggles the imagination, here's UA on how they arrived at the estimate – 1) using a DCF model, management has assumed long-term profitability, 2) revenue assumed to grow at sub-41%, 3) gross margins also assumed to grow via higher DTC contribution, 4) SG&A assumed to fall as a proportion of revenue.
All these expectations are fine and dandy but here's the reality of UA's LatAm unit – it hasn't just been loss making at the EBIT-level for three years, it's been negative for four.

(Source: Under Armour)
Meanwhile, LatAm sales growth has been slowing significantly – 2Q only saw a 7% rise YoY with no sign of a turnaround in margins. Yet, UA has somehow been allowed to input aggressive growth and margin assumptions into the model.
The $130m LatAm "headroom" is especially strange. As I've highlighted in the past, almost all of UA's goodwill is tied up in Connected Fitness (MapMyFitness + MyFitnessPal + Endomondo). Because of the way Plank as Chief Operating Decision Maker ("CODM") has allocated the goodwill, LatAm's ~$40+m in goodwill is mainly tied up in Connected Fitness ("CF") with a tiny portion (~$1m) tied to the actual LatAm operations.

So, it makes sense that UA hasn't written down any LatAm goodwill – virtually all of it is Connected Fitness-related and thus, unrelated to the operating losses. UA's response detailing the $130m headroom without clarifying the source of LatAm goodwill is interesting.
To the second SEC comment re non-GAAP P&L, UA said –"We respectfully acknowledge the Staff's comment and undertake that in future filings we will reconcile our non-GAAP measures to the most directly comparable GAAP measures without presenting a full non-GAAP income statement."
Now, all this raises some interesting questions – 1) why is UA being allowed free rein to input unrealistic assumptions into the LatAm DCF, 2) are they using similar methods to stave off a major CF goodwill impairment, and 3) why was UA not more forthcoming about its goodwill composition with the SEC?
Most importantly, just what is going on with UA's auditor?
Don't Trust the Auditor
UA's auditor PricewaterhouseCoopers (PwC) has been in place for a while now at ~15 years. There are two ways to interpret long tenures – that they've been around long enough to know their way around UA's accounting or that they've been around too long and have gotten too cozy with the company.
If PwC's recent fees are anything to go by, the UA gig isn't just lucrative, it gets more and more lucrative by the year. Here's UA's audit fees trend: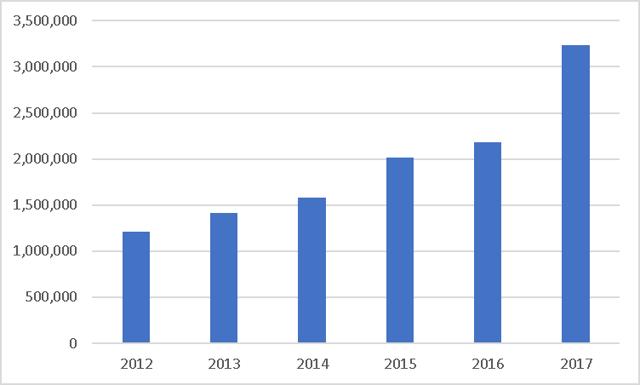 (Source: Under Armour)
Note the sharp rise in FY17 – audit fees rose ~48% in one year. Including everything else (audit-related, taxes and all other fees to the auditor), UA paid its auditor a grand total of $3.8m in FY17, a staggering 56% YoY pay hike. It also represents an eye-popping tripling in fees since FY12.
Now, there's a few reasons why this might be the case, with the most innocuous explanation being UA's growth (unlikely when benchmarked vs similar growth cos). The more likely reason in my view, may be that the audit may be getting more extensive e.g. digging into areas where results are uncertain.
Don't Trust the Board
While the media fixates on the deficiencies of Tesla's (TSLA) governance, UA's is just as bad, if not worse. With Kevin Plank wearing the CEO/ Chairman/ Founder/ CODM hats while controlling the shareholder vote, there really isn't much governance here at all.
I noted some interesting points on UA's Board breakdown – 1) Seven out of ten Board members are at or past the age of 60, 2) Only one has accounting expertise, and 3) The members hold a large number of management roles and Board positions elsewhere.
| | | | | |
| --- | --- | --- | --- | --- |
| Name | Position | Committee | Age | Accounting Expertise? |
| Kevin Plank | Chairman/ CEO | | 46 | |
| George W. Bodenheimer | Acting Chairman of ESPN, Inc. | Comp | 60 | ✘ |
| Douglas E. Coltharp | Executive Vice President and Chief Financial Officer, Encompass Health Corporation | Audit; Finance (Chair) | 56 | ✓ |
| Jerri L. DeVard | Executive Vice President, Chief Customer Officer of Office Depot, Inc. | Comp | 60 | ✘ |
| Mohamed El-Erian | Former CEO and Co-Chief Investment Officer of PIMCO | | 60 | ✘ |
| Karen W. Katz | President and Chief Executive Officer, Neiman Marcus Group LTD LLC | Audit; CG; Finance | 61 | ✘ |
| A.B. ("Buzzy") Krongard | Former Chief Executive Officer and Chairman, Alex.Brown, Incorporated | Audit (Chair) | 82 | ✘ |
| William R. McDermott | Chief Executive Officer and Executive Board Member, SAP SE | CG (Chair) | 57 | ✘ |
| Eric T. Olson | Admiral, U.S. Navy (Retired) and Former Commander, U.S. Special Operations Command | CG | 66 | ✘ |
| Harvey L. Sanders | Former Chief Executive Officer and Chairman, Nautica Enterprises, Inc. | Comp (Chair) | 68 | ✘ |
(Source: Under Armour, Author)
Now, UA's Board also has a bit of an "old boys club" feel and conflicts of interest are rampant. For instance, Olson, who has served with Krongard on the board of Iridium (IRDM), was recommended by Krongard to the UA Board. Meanwhile, Bodenheimer serves with Plank on a separate Board, which may bias his judgment as an independent director.
The low female representation is telling as well.
Besides Plank, Krongard is the key piece – as lead independent director, he acts as the "liaison between the non-management directors of the Board and the Chairman, CEO and President, Kevin Plank and the other members of our management team." On the UA site, Krongard is listed as the former CEO and chairman of Alex Brown Inc. But his Alex Brown days do not begin to do justice to Krongard's colorful history.
In fact, Krongard was at some point the executive director at the CIA, following which he held board positions at Blackwater and ArmorGroup. During his tenure at both these companies, he was no stranger to conflicts of interest, for instance, he was brought onto the Blackwater advisory board while his brother (then State Dept inspector general) was tasked with investigations into the firm. Similarly, ArmorGroup faced allegations of counter-intelligence failures and security breaches during his tenure.
A recent lawsuit (see Andersen et al vs Plank et al) highlights, on April 25, 2016, Krongard sold 16,800 personally held shares of Under Armour stock for total proceeds of approximately $762,849.36.

(Source: Andersen et al vs Plank et al)
The timing of this was highly suspicious considering it came right on the heels of the company raising guidance on April 21, 2016. In fact, Krongard seemed to have sold his shares at the same time as fellow Board members Plank and Sanders (ironically the compensation committee chair). From the lawsuit:
"In total, the 933,600 shares sold by Plank, Krongard, and Sanders, and the $39.8 million received from those sales, within mere days after the Company raised guidance on April 21, 2016, represent approximately 19% of the total shares sold and 11.8% of the total proceeds from such sales by all Insider Selling Defendants during the Relevant Period"
Interestingly, the slew of insider sales also came right before UA's rapid downfall in 2016 and 2017.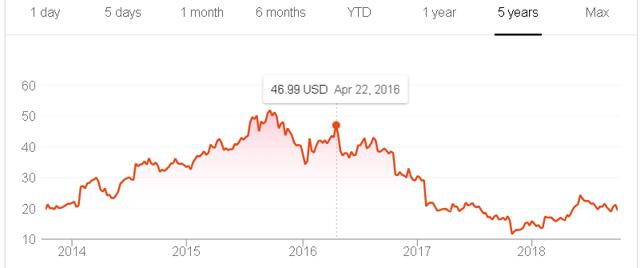 (Source: Google Finance)
It isn't just the audit (Krongard) and compensation (Sanders) chairs that have colorful backgrounds though, finance chair (Coltharp) also has a controversial history. While at Saks, Coltharp "was relieved of responsibilities for accounting and financial reporting matters… in connection with an internal investigation into improper collections of vendor markdown allowances." He later joined Healthsouth (now Encompass Health), a company plagued by accounting fraud, where he currently serves as CFO.
Meanwhile, McDermott (CG chair) currently runs SAP, where UA is a client. Although UA's Board claims the relationship is immaterial and has no impact on McDermott's independence, it seems strange that all four committee chairs either have controversial backgrounds, conflicts of interest or both.
It will be interesting to see how the addition of El-Erian impacts governance. As things stand, I'm not sure he'll be making much of an impact anytime soon – per the UA site, he isn't (yet) on any committee: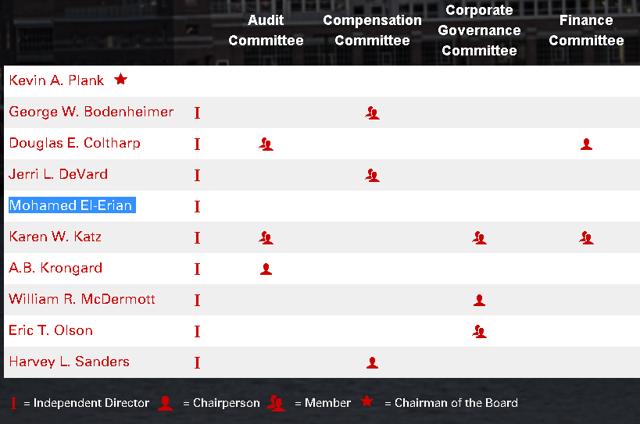 (Source: Under Armour)
Besides, there's only so much one man can do. From what I gather, El-Erian holds so many different roles, it seems unlikely that he will be able to devote the time necessary to address UA's governance deficiencies. Here's a list of some of his roles:
| | |
| --- | --- |
| Institution | Position |
| Carnegie Endowment for International Peace | Vice chair |
| National Bureau of Economic Research | Exco member |
| Capital Campaign for Cambridge University | Co-chair |
| King Abdullah University of Science and Technology (KAUST) | Board member |
| The Pegasus School | Board member |
| Microsoft Investment Advisory Committee | Chair |
| Council on Foreign Relations | Member |
| Allianz | International advisory committee |
| Allianz | International executive committee |
| Allianz | Chief Economic Advisor |
| Investcorp | International advisory committee |
| Under Armour | Board member |
(Source: Author, El-Erian Website, Bloomberg)
Contrary to popular perception, I don't think the addition of El-Erian is in the best interest of shareholders. Seemingly expert board members such as El-Erian add credibility but only possess tangential expertise and thus, cannot sufficiently challenge management. The busy schedule doesn't help either and it wouldn't surprise me if El-Erian ends up nothing more than a symbolic figure on the UA Board.
Don't Trust Plank
UA's governance issues really stem from Plank's lack of accountability. UA's share class structure (approved by the Board without question) – one-vote-per-share Class A, no-vote per share Class C, and ten-votes-per-share Class B stock – is designed to entrench Plank's control over UA.
That's a big problem – Plank is widely credited with promoting an overly aggressive culture within UA and since 2015, has been operating with virtually no check and balance. Here's a particularly interesting excerpt I came across from a the Andersen lawsuit (see Andersen et al vs Plank et al):
"Within Under Armour, instructions for determining growth forecasts were very simple: take what you sold last year and add 20%. The Company's "top down" aggression came directly from Plank. Plank's obsession with the 20% growth streak drove the Company's revenue growth-at-all-costs strategy."
Along with UA, Plank also has interests in businesses such as a whiskey distillery, horse racing, venture capital and property development among others. The latter was a major source of controversy due to a related party transaction which occurred in 2016 where Plank (via Sagamore) sold a parcel of land to UA for $70.3m (more than twice the initial purchase price two years earlier).
In response to King's demand letter dated May 25 2017 (see King et al vs Plank et al), UA came up with the following breakdown to justify the inflated price (note the inclusion of a $31m lease buyout).
| | |
| --- | --- |
| | Value ($) |
| Cost | 35m |
| +Lease buyout | 30.6m |
| +Development, planning and carrying cost | 6.4m |
| -Loss to Sagamore | 1.5m |
| Total Purchase Price | ~70.3m |
(Source: UA Review Group)
Meanwhile, a UA rep, Diane Pelkey has been posting the following PR statement in response to media coverage (see comment section here):
"Kevin Plank never made money on the transaction with Under Armour. In fact, he actually sold the land to the company at a loss. Moreover, this purchase is going to enable the company to develop a headquarters campus that can support the company's long-term growth plans. The company followed a thorough process in reviewing and negotiating the transaction, using independent advisors, including Ernst & Young, with close oversight of the company's Audit Committee to ensure the transaction was fair to the company and free of any potential conflicts."
Very noble of Plank to take on losses to fund the latest UA headquarters. In fact, Plank claims UA faced a "pressing need for ~100,00 sq ft of office space with even more thereafter" as justification for the purchase in June 2016.
Yet, barely a year later, UA disclosed that their cost base was far too large and needed to be restructured – so much for the "pressing need". From the 3Q17 call:
"Walking hand-in-hand with this is the need to address our cost infrastructure, which is built for a much larger company than we currently are"
In fact, Plank's secretive Port Covington real estate purchases began in 2012 after his plans to expand UA's Locust Point HQ was scuttled by the Baltimore Museum of Industry. Here's Plank's reaction in a later interview:
"Number one, I've got the engine in Under Armour. Number two . . . I can afford to make these decisions, so why am I waiting on [the Museum of Industry] board of directors?"
Through Marc Weller, who heads Sagamore Development (Plank's property development co), Plank began discreetly acquiring land in Port Covington that year. His intention was twofold – to sell some of the land to UA for its future HQ, and to develop a mixed-use neighborhood anchored by UA's HQ.
Throughout this period, Plank discreetly made Port Covington acquisitions totaling over 160 acres at ~$114 million.
Per a Baltimore Sun piece:
"The use of names and addresses that didn't tie back to Kevin was all very intentional," Weller said. "We wanted to be successful in acquiring as much as possible as quickly as possible."

Companies discreetly owned by Plank purchased his first Port Covington property at a foreclosure auction.
Plank sold well over $300m worth of stock into 2014, with the massive sales continuing into 2016, likely to fund the Port Covington development.
In fact, his total stock sales since listing came in at well over $700m.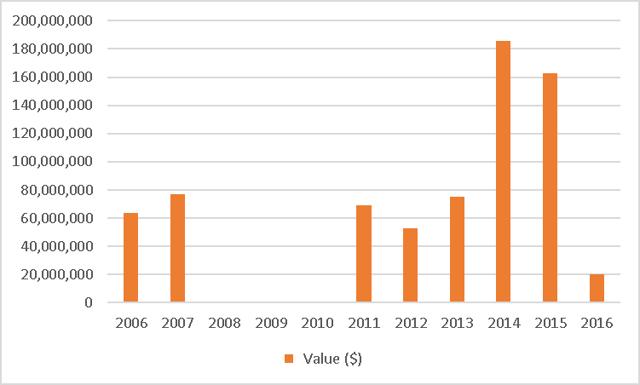 (Source: Insider Monitor, Author)
Per news articles cited in the King lawsuit (see King et al vs Plank et al), "Sagamore is expected to make $400 million from land sales during the multidecade project, according to an analysis conducted for the city."
Here's where it gets dicey for UA shareholders – assuming Plank has been funding Port Covington via UA share sales, would that not imply that UA shareholders have been subsidizing the project? The strategic use of UA's HQ as a focal point of the development also likely contributed to the funding etc yet, all the upside accrues to Sagamore/ Plank.
Other notable related party transactions include UA's lease for jet aircraft and a helicopter as well as industrial space and hotel accommodation (all linked to Plank/ Plank Industries and yes, all okayed by the Board, no questions asked).
You Cannot Fool All of the People All of the Time
With the spotlight shining firmly on Tesla's governance deficiencies, investors may want to check out Under Armour as well. UA's constant use of restructuring vehicles and aggressive assumptions to mask its busted growth model can only last so long before the market sees UA for what it truly is.
From a valuation perspective, UA looks extremely lofty – the "hockey stick" needed to hit FY18 is already well-known, but FY19 consensus looks way too high as well. With UA already writing off FY19, it wouldn't surprise me if we see a big reset and consensus' $0.31 FY19 EPS (implying ~62x fwd PE) gets cut in half. In fact, I don't see UA's earnings power being any higher than high-teens EPS. And that's being generous on margins – I've assumed flat gross margins and SG&A going forward. Tack on a 30-40x multiple and you'd have to stretch far to get much higher than a MSD-HSD PT for the stock. With a bit of patience, there's significant downside to be realized here.
It's hard to say when the market will finally (de-)value UA accordingly – I'd like to think value/ patience is its own catalyst. As the saying goes:
"You can fool all the people some of the time, and some of the people all the time, but you cannot fool all the people all the time" – Abe Lincoln
Disclosure: I am/we are short UAA.
I wrote this article myself, and it expresses my own opinions. I am not receiving compensation for it (other than from Seeking Alpha). I have no business relationship with any company whose stock is mentioned in this article.