The markets have generally been volatile since the end of January 2018. The S&P 500 has touched its 200-day moving average a few times, however, bounced back each time. It does appear that the current turbulence may well continue for some more time. However, in spite of recent uneasiness in the market, the broad indexes are only about 5% away from their all-time high achieved during the last week of January 2018.
However, it is altogether another story with some of the sectors of S&P 500. For example, one of them is Consumer Staples and Packaged Foods (Consumer Defensive Sector). Most investors are probably aware how bad the downturn is in Consumer Staples industry. Some of the well-known dividend-paying companies in the Consumer Staple sector are Procter & Gamble (PG), Colgate-Palmolive (CL), General Mills (GIS), Unilever PLC (UL), Nestlé S.A.(OTCPK:NSRGY), Kraft Heinz Co (KHC), and some others. Most of these companies are down by double-digits. Some of the reasons that have caused this downturn are:
Competition from 'House Brands' causing stagnant or declining revenues for the brand name products.
Commodity prices have been on the rise.
Rising threat and challenges from e-commerce.
Some of the above fears may truly be valid. But the bigger question is if these trends are permanent or just a passing phase. Even if they are permanent, are some of these companies well positioned to challenge the status quo and come out stronger?
Here is a table that shows the performance of the above stocks since the beginning of this year. You will notice that not all have declined; actually, the European companies are doing much better than their American counterparts.
Symbol

Current Price

(As on 05/11/2018)

Price on 01/02/2018

% Return

(since Jan 2nd, 2018)

PG

73.37

90.65

-19.06%

CL

62.71

75.14

-16.54%

GIS

42.66

59.04

-27.74%

UL

55.92

54.85

+1.95%

NSRGY

77.41

85.63

-9.60%

KHC

59.24

77.02

-23.08%

SPY (S&P 500)

272.85

268.77

+1.51%
Many of the above stocks have been the favorites of the DGI investors (Dividend Growth Investors). A few of them are dividend champions, meaning they have paid and raised the dividends for more than 25 years. Their dividend yields were already attractive before this downturn, but some of them are offering mouth-watering yields off late. Below are the current yields for the six stocks.
Symbol

Current Price

(As on 05/11/2018)

Current Dividend

Yield

Forward Dividend Yield

PG

$73.37

3.80%

3.96%

CL

$62.71

2.58%

2.64%

GIS

$42.66

4.59%

4.61%

UL

$55.92

3.15%

3.44%

NSRGY

$77.41

3.27%

3.31%

KHC

$59.24

4.18%

4.31%
Who Should Buy Now?
Certainly, almost all of these stocks are at attractive valuation right now. However, it does not mean they can't fall even further. They certainly can and more likely will, especially if the broader market takes a hit. However, there are other factors that need to be looked into:
Do you own some of them already? If so, how are they weighted in your overall portfolio? As a general rule, you should not have more than 15% in one sector, after all, there are 11 sectors of the economy. Also, you should not have more than 5% in one single stock, assuming you have a minimum of 20 stocks in your portfolio,
If you are already over-weighted in the sector or a stock, you should not get tempted to buy the current dip. We should remember the folks who were overweight in the financial sector just before the 2008-2009 financial-crisis and the damage it must have done to their portfolios.
What are your income needs? If you need high income, investing at the current yields into these generally conservative stocks would make more sense compared to someone who is in the accumulation phase and does not care about the current income.
Do these stocks fit your risk-profile? We would generally think these should fit even the most conservative stock investors. However, the stock market is at an all-time high, in spite of the recent turbulence. If the broader markets were to take a big hit, the above stocks would take a hit as well, irrespective of how low they may already be. However, they are likely to go down less compared to the broader market. Do you have the tolerance to see another 10% or 20% dip after you have taken a position? If your investment horizon is longer than 10 years, and you are prepared to look at the income component rather than the market price, then these may be suitable investments.
If you were to buy now, how much should you buy? The answer to this question is same as the point # 1. You should follow your rules regarding position-weight of any one security and any one sector. Also, you should decide if you are going to buy in one lot or in more than one lot, meaning in a deferred fashion. A deferred approach will take advantage of dollar-cost-average in case they were to dip further.
If We Are Going To Buy The Dip, Which One Is the Best?
Okay, let's say you have taken the first decision that you would want to buy one or more of these stocks and take advantage of the lower prices and significantly higher yield compared to just a few months ago.
To help with the decision as to how these stocks rank compared to each other, we will compare them to several factors. The six companies that are being compared are:
PG, CL, GIS, UL, NSRGY, KHC
We will compare them on the basis of following metrics:
Size and economic moat
Dividend Yield
Dividend growth
Dividend safety
Valuation
Long-term debt
Revenue growth
EPS growth
Future growth estimates
Note: On each of the above metrics, we will provide a relative "Rating" to each company (except KHC). Please note that the rating is un-scientific and subjective, in this case, based on our opinion. It should not be used for buy/sell decisions, rather only as a starting point for further research.
Size and Economic Moat:
All of our companies in the select-list are well known and large-cap companies, with leading positions in some of their product categories. Even though some of them are larger than others, but we will consider them on equal footing and award them the same rating under this category.
Dividend Yield:
The current yield of a company's stock will depend upon the market price at the time of buy. So, when the market price declines, the yield will go up. Ideally, we should buy when the current yield is at least higher or equal to the stock's 5-year average yield.
Currently, many of these companies are yielding higher than their 5-year average, because of the recent decline in prices.
Symbol

Current Price

(As on 05/11/2018)

Current Dividend

Yield

Forward Dividend Yield

5-yr Trailing Yield

RATING

PG

$73.37

3.80%

3.96%

3.14%

1.5

CL

$62.71

2.58%

2.64%

2.18%

1.0

GIS

$42.66

4.59%

4.61%

3.11%

1.5

UL

$55.92

3.15%

3.44%

3.14%

1.25

NSRGY

$77.41

3.27%

3.31%

3.03%

1.25

KHC

$59.24

4.18%

4.31%

NA*

NR**
**NR – Not Rated, *NA – Not Available
Dividend Growth:
For DGI investors, both the current yield and the growth of the divided are important. Obviously, as investors, we want both to be high enough. If the current yield is low, but the faster dividend growth may compensate for low current yield. Alternatively, a high current yield may compensate for low dividend growth.
In this regard, Chowder-number comes quite handy. Chowder – number is the sum-total of current yield and past 5-year dividend growth. Generally, we would want the chowder-number to be at least 8 or higher.
Below is a table that provides an idea how much time it takes for a high dividend-growth but current low yield stock to catch up (provide the same or higher dividend amount) to another stock which yields high but provides low growth.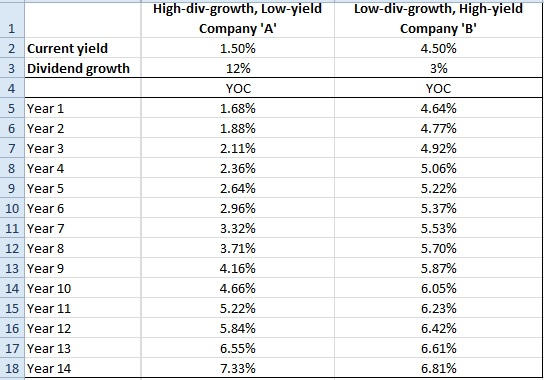 As you can see, in terms of YOC (yield on cost), it would take company-A 14 years to surpass company-B. That too provided company-A maintains its high dividend growth rate all these years. However, if the company-A is also growing its earnings faster, it is likely that the stock price of company-A would rise faster due to higher growth.
Here is the comparison of previous 3-year and 5-year dividend growth for our selected companies:
Symbol

FWD Dividend

Yield

3-Year

Dividend Growth

5-Year

Dividend Growth

RATING

PG

3.96%

3.30%

4.90%

1.0

CL

2.64%

3.80%

5.40%

1.0

GIS

4.61%

7.40%

9.70%

1.25

UL

3.54%

11.80%

8.90%

1.5

NSRGY

3.31%

2.30%

3.30%

0.75

KHC

4.31%

NA

NA

NR
Dividend Safety:
Dividend safety is actually more important than either the current yield or the dividend growth. After all, what good is the yield or growth, if that gets cut after a year. Investors in General Electric (GE) have learned that lesson twice in the last decade, unfortunately.
At the same time, it is also more difficult to know the dividend-safety factor, than say dividend-growth. It is often said that safest dividend is the one that just got raised. The past growth of the dividend, especially the very recent growth tells a lot about safety. But there are other factors like cash-flow and payout-ratio that the investors need to look at very carefully. The income of a company can be dressed up to look good by crafty management, but cash-flow will provide a true picture of how well the dividend is covered.
Payout-ratio = Total dividend paid for the year/ Total cash-flow generated for the year.
So, for dividend safety, we should look for:
Previous three year or 5-year dividend growth Current Payout ratio versus past 5-years payout ratios.
Symbol

FWD Dividend

Yield

5-Year

Dividend Growth

Payout-Ratio

5-Year

Payout-Ratio

RATING

PG

3.96%

4.90%

72.49%

71.31%

1.0

CL

2.64%

5.40%

61.00%

66.17%

1.25

GIS

4.61%

9.70%

71.06%

64.34%

1.0

UL

3.54%

8.90%

64.79%

65.07%

1.25

NSRGY

3.31%

3.30%

76.44%

68.52%

1.0

KHC

4.31%

NA

75.78%

NA

NR
Valuation:
.
All things equal, when the stock price of a company declines, its valuation improves. For example, PG has declined roughly 20% in the recent past, if its future EPS does not decline, the company has become much cheaper. P/E (or the forward P/E) is the most common metric that is used to judge the valuation. We should also compare the current P/E with the last 5-years average P/E to judge relative valuation.
As Warren Buffett said, "it's far better to buy a wonderful company at a fair price than a fair company at a wonderful price." So, we should not look at the valuation alone. It is important that the fundamentals and the future prospects of the company are solid as well. That is why valuation is just one of the nine factors in our analysis.
Symbol

Current P/E

Forward P/E

5-Yr

P/E

Price/Book

Price/Sales

RATING

PG

19.51

16.16

22.99

3.46

2.96

1.5

CL

26.57

20.08

30.81

NA

3.54

1.0

GIS

11.25

13.64

21.43

4.90

1.59

1.5

UL

21.83

20.88

21.69

4.24

2.46

0.50

NSRGY

28.15

19.92

23.10

3.86

2.67

0.75

KHC

6.56

15.34

NA

1.09

2.77

NR
Long-term Debt:
The long-term debt of a company and its ability to service those debts are important to know. We should look at the interest expense versus the income to get an idea if the debt load is going to be too much for the company. We can also look at the credit rating of the company provided by various credit agencies.
| | | | | | |
| --- | --- | --- | --- | --- | --- |
| Symbol | Long-Term Debt | S&P Credit Rating (L.T.) | Debt/Equity Ratio | Debt/Total Asset ratio | RATING |
| PG | $18.0 Billion | AA- | 0.65 | 0.18 | 1.25 |
| CL | $6.5 Billion | AA- | NA | 0.50 | 1.00 |
| GIS | $7.6 Billion | BBB | 1.94 | 0.32 | 0.75 |
| UL | $19.08 Billion | A+ | 1.75 | 0.27 | 0.75 |
| NSRGY | $16.14 Billion | AA- | 0.43 | 0.12 | 1.50 |
| KHC | $28.3 Billion | BBB | 0.49 | 0.25 | NR |
Revenue Growth:
Revenue growth will tell us if the company is growing its top line. As you can see below, the only company that has performed much better recently is Unilever, and that shows in its share price, which has not declined much in-spite of the downward pressure.
| | | | | |
| --- | --- | --- | --- | --- |
| Symbol | Previous 3-yrs Growth | Previous 5-yrs Growth | Previous 10-yrs Growth | RATING |
| PG | -2.50% | -3.80% | -0.10% | 0 |
| CL | -0.40% | -1.10% | 2.90% | 0 |
| GIS | -2.00% | 0.80% | 4.60% | 0.50 |
| UL | 8.40% | -14.50% | 3.70% | 1.00 |
| NSRGY | 0.40% | 0.50% | 0.70% | 0.50 |
| KHC | NA | NA | NA | NR |
EPS Growth:
As the earnings of a company grow, so will the share price.
Symbol

Previous 3-yrs

EPS Growth

Previous 5-yrs

EPS Growth

RATING

PG

0.50%

1.50%

0.50

CL

14.50%

1.40%

1.50

GIS

-0.70%

1.30%

0.25

UL

10.40%

7.10%

1.50

NSRGY

-19.90%

-15.60%

0

KHC

NA

NA

NR
Future Growth Estimates:
The recent past history of EPS growth can tell a lot about how the company has been growing. But it still can't tell about the future. However, we can use the EPS growth estimates for this purpose. Below are the EPS growth estimates from Nasdaq.com and Morningstar.com.
Symbol

Next-year

Growth Est.

Next 5-yrs

Growth Est.

RATING

PG

6.60%

7.37%

1.0

CL

9.68%

8.49%

1.25

GIS

6.62%

8.18%

1.0

UL

10.41%

5.46%

1.0

NSRGY

11.5%

16.2%

1.50

KHC

8.08%

23.29%

NR
Overall Rating:
We summarize the category-wise ratings for the five stocks and calculate the overall ratings.
PG

CL

GIS

UL

NSRGY

Size and economic moat

1.00

1.0

1.0

1.0

1.0

Dividend Yield

1.5

1.0

1.5

1.25

1.25

Dividend growth

1.0

1.0

1.25

1.50

0.75

Dividend safety

1.0

1.25

1.0

1.25

1.0

Valuation

1.5

1.0

1.5

0.50

0.75

Long-term debt

1.25

1.00

0.75

0.75

1.50

Revenue growth

0

0

0.50

1.00

0.50

EPS growth

0.50

1.50

0.25

1.5

0

Future growth estimates

1.0

1.25

1.0

1.0

1.50

RATING

TOTAL

8.75

9.0

8.75

9.75

8.25
Conclusion:
All the above companies that have been analyzed are relatively safe DGI companies. As you can see from our analysis that there are only marginal differences in the net rating that we have derived. Though this rating method is un-scientific and subjective to some extent, we still find it helpful.
If we are price-conscious and rather go for the cheapest company in this sector, probably PG would be our choice. However, if we want to buy a company that has been going strong in the recent years, we could buy Unilever, which is trading at a fair price (but not cheap). In terms of future prospects and growth, it is difficult to see which company will grow faster than others. The EPS growth estimates suggest higher growth for Nestle and KHC going forward, but these are only Wall-street estimates at this point and should be taken with a grain of salt.
As we stated earlier in the article, you should pay attention to the position weight to this sector. If you are already overweight the sector, you should probably skip the temptation to buy. On the other hand, if you are underweight, it will be okay to nibble on a couple of names like PG and Nestle.
Disclaimer: The information presented in this article is for informational purposes only and in no way should be construed as financial advice or recommendation to buy or sell any stock. Please always do further research and do your own due diligence before making any investments. Every effort has been made to present the data/information accurately; however, the author does not claim 100% accuracy. Any stock portfolio or strategy presented here is only for demonstration purposes.
If you liked reading this article, please click on the "Follow" button at the top of the article. We provide many of the strategies and portfolios similar to the one discussed in the article in our Marketplace Service "High Income DIY Portfolios." The HIDIY premium service includes five portfolios, including two High-Income portfolios, a conservative strategy for 401(k) accounts, a Sector-Rotation strategy and a High-Growth portfolio. For more details or a two-week free trial, please click on the image just below our logo at the top of the article.
Disclosure: I am/we are long ABT, ABBV, JNJ, PFE, NVS, NVO, CL, CLX, GIS, UL, NSRGY, PG, MON, ADM, MO, PM, KO, DEO, MCD, WMT, WBA, CVS, LOW, CSCO, MSFT, INTC, T, VZ, VTR, CVX, XOM, VLO, HCP, O, OHI, NNN, STAG, WPC, MAIN, NLY, PCI, PDI, PFF, RFI, RNP, UTF, EVT, FFC, KYN, NMZ, NBB, HQH, JPC, JRI, TLT, DAE , ARCC, JPS.
I wrote this article myself, and it expresses my own opinions. I am not receiving compensation for it (other than from Seeking Alpha). I have no business relationship with any company whose stock is mentioned in this article.
Editor's Note: This article discusses one or more securities that do not trade on a major U.S. exchange. Please be aware of the risks associated with these stocks.