Thursday and Friday were eventful days for the Lucky Seven and for biotechnology stocks, in general. It requires portfolio reassessment.
First, Some Guidelines
Before we begin, I'd like to discuss some additional key points to the purpose of the Lucky Seven portfolio:
The goal, for all picks, is to reap 15% profits as quickly as possible. If and when a pick does this, it is considered a "win". The 15% threshold includes intraday activity. For scorecard sake, 10% additional profits (at 25%, 35%, 45%…) are locked in. Meaning, if Omeros (NASDAQ:OMER) is up 37% since our initial buy, then drops 15% within a day and we decide to sell, this trade will be considered a "win" with a theoretical 35% profit. I will also keep track of actual gains, as opposed to the theoretical ones I just mentioned. The actual gain in the example provided would be 22%.
After a "win", if we feel there is additional upside, we will continue to hold the pick in the Lucky Seven.
A "loss" is considered anything sold for a loss.
A "gain" is anything sold for a profit under 15%.
A scorecard, tracking and updating all Lucky Seven "wins", "losses", and "gains" will be presented in each Lucky Seven article.
To simplify things going forward, we will no longer note theoretical portfolio values/losses/gains and will focus on swing candidates only, as our swing candidates must also have good long-term prospects.
Lucky Seven transactions (adding/buying or subtracting/selling) will only occur when specified in a "Lucky Seven" article or when a pick hits a stop-loss specified in an article.
Lucky Seven Portfolio
The Lucky Seven is a swing-trading biotechnology portfolio of seven stocks listed in a way to reflect top picks and risk tolerance. The first three picks are the top picks (in no particular order). Risks are increased the further away a stock sits from #4 (the least risky stock).
SELL 1. Viking Therapeutics (NASDAQ:VKTX)
Price: $4.25
It appears like the 50-day MA (currently at 4.84) has served as resistance. It will be interesting to see how this trades near that resistance in the coming days. This should be watched very closely.
Intraday 5/11 Update: The 50-day MA, once again, served as strong resistance. I am concerned for a pullback towards the 200-day MA before it perks back up (the chart isn't looking strong in the near-term).
Now, I am very confident in Viking's future, and with Madrigal (MDGL) data on its way soon I feel I could miss out on a 15%+ near-term gain. However, it isn't wise to get into a habit of holding picks just because you feel you may "miss out" on something. That is emotional investing. That chart speaks for itself. Plus, whether or not Madrigal reduces liver fat is much more of an unknown than previous studies. We are selling Viking at $4.50. We will likely revisit Viking very soon, anyway.
In its place we are adding Immune Design (IMDZ) to the Lucky Seven portfolio. I am writing an update piece on Immune Design; it should be up shortly.
BUY 1. Immune Design (NASDAQ:IMDZ)
Initial price: $3.80
Thesis article: here
Update article: here
Being the #1 pick reflects two things:
It is a very risky pick.
It is a pick I feel confident in its ability to significantly appreciate within the next four months given its (1) current valuation, (2) great data in immuno-oncology setting, (3) chart technicals, (4) insider conviction, and (5) good balance sheet (a lot of cash; no debt).
SELL 2. Omeros (OMER)
Price: $14.79
Because shares of Omeros reached at least 15% within 120 days of the initial buy price, it is considered a "win". Usually when my short-term trades hit 15% profits, I reevaluate and determine if further upside is ahead or I should cash-in profits and invest in greater opportunities elsewhere.
Thursday AH, Omeros reported Q1 earnings:
Revenues for OMIDRIA® were insignificant for Q1, but the two-year passthrough extension will begin in October.
Omeros notes $72.8 million in cash, cash equivalents and short-term investments. It plans to add $45 million next week via an existing credit facility. Omeros had a net loss of ~ $30 million for the quarter.
Management is confident OMS721 will receive accelerated approval for in both stem-cell TMA and IgA nephropathy (both indications are Breakthrough Therapy Designations).
On Friday, the top on Omeros popped off and it closed up 24% at $19.89. Although I believe further upside may be ahead, I am satisfied with this swing trade and feel better opportunities now present themselves. In addition, I do have concerns of dilution in the near-term. This is the perfect time to do so and I believe it would be prudent of management. Because of this and achieving a significant profit already within just a few trading days, it is worth selling for now: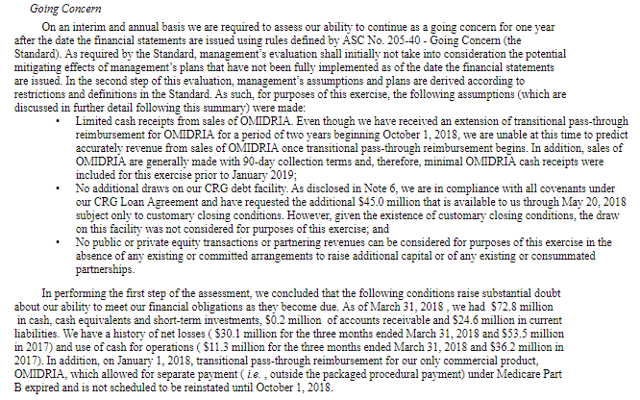 Source: Omeros' latest 10-Q
Stay In Cash 2. TBD
3. Array BioPharma (NASDAQ:ARRY)
Price: $13.75 / Gain 9.3% / Day 8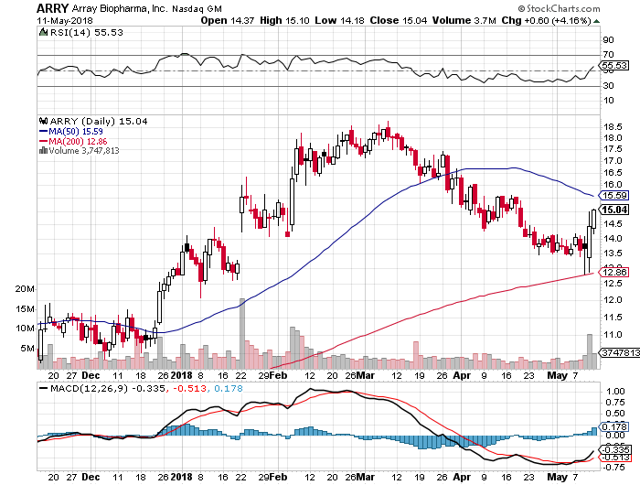 Chart courtesy of StockCharts.com
It seems the 200-day MA is serving as solid support. We are hoping for a rally towards and past the 50-day MA.
4. Exelixis (NASDAQ:EXEL)
Price: 21.77 / Loss 10.2% / Day 8
Ironically, the least "risky" pick holds, by far, the most significant loss (such is biotech investing).
Roche (OTCQX:RHHBY) reported Thursday that its doublet therapy, including Exelixis' cobimetinib, failed to prove statistically significant over Stivarga in patients with treatment-resistant late-stage colorectal cancer. Although this would have been great news if successful, I don't think success was likely to begin with. The market badly punished Exelixis shares, pushing them down ~15% towards a new 52-week low.
I believe the market largely overreacted to the news and this presents a great buying opportunity for long-term investors. But does it still belong on Lucky Seven – a swing-trading platform?
When it comes with losses, it isn't wise to hold on to it just because you don't want to "sell for a loss". You've already lost the money. The decision should be based upon whether or not you believe a better opportunity exists. For our purposes, I'm looking for investments that will appreciate by at least 15% from the buy price within the next 4 months. Exelixis remains a prudent long-term investment in any portfolio and I am confident it will rebound. We may take a textbook "loss" later, but not at 14.7% and for the reason it's down.
Update: On Friday the share price rebounded by nearly one dollar.
5. NovoCure (NASDAQ:NVCR)
Price: 27.75 / Gain 8.1% / Day 8
NovoCure continues to climb up after mesothelioma news. It recently presented at the Annual Deutsche Bank Healthcare Conference. The company remains adamant that mesothelioma data was better than expected from what it saw in the interim data (which was good in and of itself) and plans to release full data 2H 2018.
6. Avid Bioservices (NASDAQ:CDMO)
Price: $3.50 / Gain 5.1% / Day 4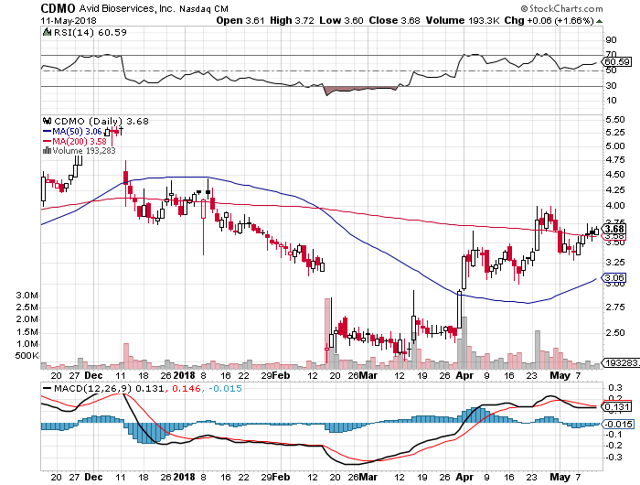 Chart courtesy of StockCharts.com
Seneca Park Research penned a robust overview of Avid. You can read it here. We are hoping for the 200-day MA to serve as support and a springboard going forward.
7. Global Blood Therapeutics (NASDAQ:GBT)
Price: 44.75 / Gain 10.6% / Day 8
We're all just awaiting phase 3 data. In the meantime, the technicals look fine as Friday's candle poked its head over the 50-day MA for the first time in a while: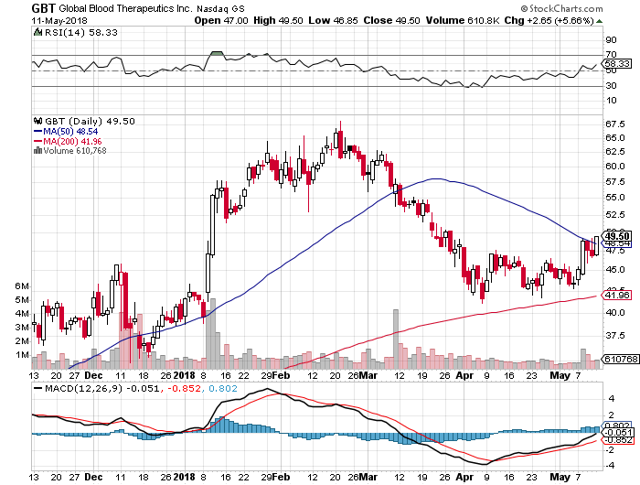 Chart courtesy of StockCharts.com
Portfolio Summary
Lucky Seven: Gain 4.45% (this doesn't include OMER and VKTX gains because we sold them. They are now listed under scorecard/are no longer a part of the portfolio)
SELL OMER at EOD 5/11 and stay in cash (I will initiate a new position when appropriate. An article will be posted when this happens).
SELL VKTX at EOD and buy IMDZ at EOD price.
Lucky Seven Scorecard
Record: 1-1-1; Gain: 12.9%
Loss / SYBX / sold 5/8/18, -1.6% / 3 days
Win / OMER / sold 5/11/18, 34.5% / 8 days
Gain / VKTX / sold 5/11/18, 5.8% / 8 days
One last note on Synlogic: It won't always work this way (unfortunately), but it's a good thing we paid attention and remained level-headed. The chart was telling us depreciation was on its way and we sold for a small loss before the ominous candle on Friday: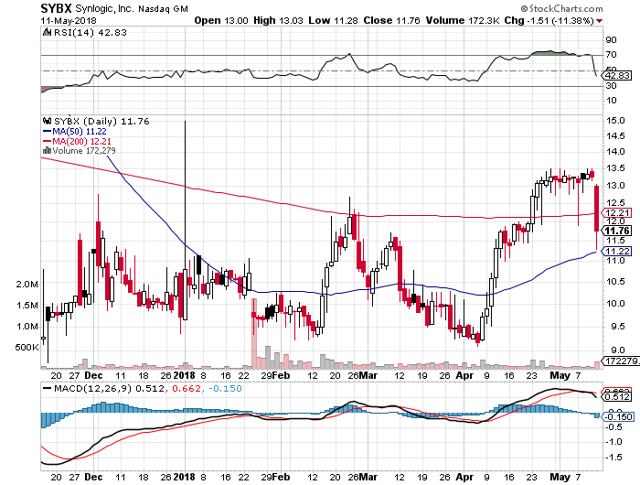 Chart courtesy of StockCharts.com
And this was on a day that the biotech industry, in general, boomed.
Of course, I remain very bullish on Synlogic's long-term prospects.
Author's note: For further insight into biotechnology stocks, please follow Biotech RN.
Disclaimer: The intention of this article is to provide insight, not investment advice. One must consider one's own financial standings, risk tolerance, research, etc. before making a decision to buy shares in a company. Many of my articles detail biotechnology companies with little or no revenue. These stocks are, therefore, speculative and volatile. Even when prospects seem promising, there is no predicting the future. Losses incurred may be significant.
Disclosure: I am/we are long GBT, imdz, EXEL.
I wrote this article myself, and it expresses my own opinions. I am not receiving compensation for it (other than from Seeking Alpha). I have no business relationship with any company whose stock is mentioned in this article.
Editor's Note: This article covers one or more stocks trading at less than $1 per share and/or with less than a $100 million market cap. Please be aware of the risks associated with these stocks.