This research report was jointly produced with High Dividend Opportunities co-authors Jussi Askola and Philip Mause.
Introduction
Real estate investors often say that the three most important criteria for achieving investment success are:
"Location, Location, Location…"
While there is truth to that, in the case of large diversified REITs, at High Dividend Opportunities, we also like to emphasize:
"Track record, track record, track record…"
Numbers don't lie, and it is our opinion that nothing speaks louder than a long record of substantial market outperformance. It is clear that past performance is no guarantee for future performance, but it is also true to say that great companies tend to stay that way assuming that there is no major change in the company's management or disruption in business fundamentals.
One such "great company" that deserves investor's consideration is Ventas (VTR), a Healthcare REIT with a long-lasting record for market-leading return generation: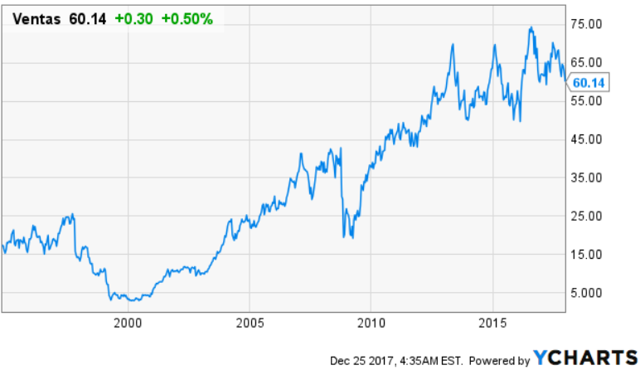 Over the last 17 years, since 2000 to today, Ventas returned an annual average of 25% return to its shareholders – representing one of the highest total cumulative return of not only REITs, but the whole equity market. Even more fascinating is how these returns were generated. Ventas is not a high-tech disruptor such as Apple (NASDAQ:AAPL) or Amazon (AMZN), neither a revolutionary biotech such as Valeant (VRX), Gilead (GILD) or Amgen (AMGN); instead it is a rather boring and "unsexy" real estate firm with a very simple and risk-reduced business model.
We say "risk-reduced" because that's what earning a rental income from high quality real estate assets really is. The fact that Ventas returned 25% per year (on a total return basis) following such business model and taking – relatively speaking – limited risk is not only fascinating, it was a very unlikely outcome. In efficient markets, a given level of risk is supposed to be compensated with an adequate level of return and very clearly this did not apply to Ventas.

Earning an annual average of 25% by investing in defensive properties that commonly trade at 6 to 10% cap rates in private markets really demonstrates the significant disconnect between risk undertaken and return generated. And this is why we like to call Ventas:
"The High Return/Low Risk Company"
What this risk/return disconnect tells us is that Ventas must have one of the best management teams out there. Earning high excess return in a competitive market place requires superior management skills and this speaks for the "Ventas Advantage."
Most importantly, we believe that this "competitive advantage" remains intact and this is the backbone to our Buy thesis. Over the long run, it is really the management team that determines how much shareholder value is created, and under the lead of the current team we feel particularly comfortable as long-term holders. We would go as far to say that Ventas remains one of the strongest risk-to-reward opportunities that the market has to offer today for dividend growth investors.

Predictable Income from Growth Industry
Ventas is positioned at the intersection of two large and dynamic markets: healthcare and real estate with each representing nearly 20% of the U.S. GDP. We consider this combination of two massive industries to be very interesting as it results in a very steady cash flow, but also allows for significant long-term growth.
Predictability from a real estate perspective: Steady rental income from a diversified lease portfolio with long maturities. Unless tenants go bankrupt, the rents are guaranteed to generate income for years to come.
Growth from a healthcare perspective: A highly fragmented market with very favorable demographics is expected to result in sustainable and growing demand for healthcare facilities.
In this sense, healthcare real estate has an interesting investment story with massive growth potential, yet also strong stability at the cash flow level. This is part of the reason why Ventas along with other Healthcare REITs have managed to achieve such phenomenal returns over the past decade or two.
Income "stability" and "growth" are therefore the two "key arguments" of this thesis – both are well reflected in the following chart: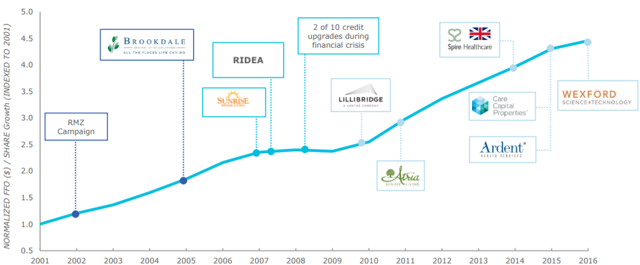 Since 2000, Ventas has shown extreme consistency in its income generation capability along with its growth plans. FFO per share more than quadrupled during this time period and not even a massive financial crisis (2008-2009) could stop the growth machine as in-place leases proved to be resilient and rental income kept getting cashed. It is in such times of deep economic turmoil that the defensiveness of Ventas really shines. Regardless of whether we undergo expansions or recessions, people will always need healthcare facilities and Ventas is here to provide it. People do not stop from going to the hospital when they get sick just because GDP is slightly decreasing, and retirees are unlikely to stop paying their housing rent unless they really have no other option. This makes for a very resilient demand side allowing for operators to weather troubled economic times, and landlords to sustain rental income.
Moreover, this demand is expected to just keep getting more and more favorable for Ventas as time goes by: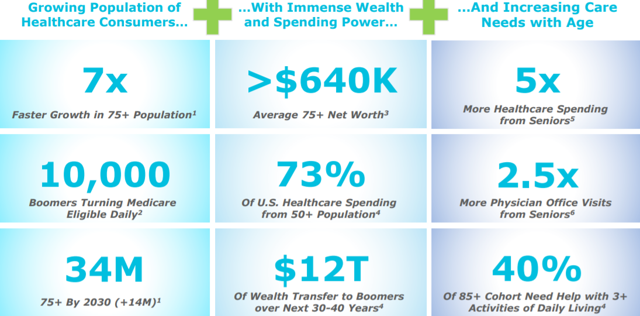 The older age groups with the highest need for healthcare facilities are growing at a very fast pace today with over 10,000 baby boomers reaching retirement on a daily basis. The 75+ year old segment of the population is experiencing 7x faster growth than the average and is expected to account for 34 million people by 2030 (+14 million compared to today). Knowing that 73% of US Healthcare spending comes from 50+ age population, it is easy to foresee how this demographic growth will result in much more demand for healthcare properties far into the future.
And this is why we like to call Ventas a "lower risk firm" – it operates a resilient business model in a defensive industry. Ventas owns assets that are absolutely needed to our society as we cannot go one day without hospitals, senior housing, medical offices and so on. Not even the greatest financial crisis could put much pressure on cash flow, and the demand for its assets is expected to only keep improving into the future. As such, while possible, it is hard for us to imagine scenarios where an investment in Ventas could turn badly as long as investors are patient and have a very long investment horizon.
This is especially true when you consider the high asset-level quality of the portfolio.
Best-in-class Portfolio to Sustain Excellence
Ventas owns a widely diversified portfolio of more than 1200 assets with diverse asset-types and geographies. Rather than being a "pure-play" and focusing on one single segment of the healthcare industry such as hospitals, medical offices, or senior housing, Ventas follows a less focused strategy allowing it to increase diversification benefits at the portfolio level and acting opportunistically where it finds the greatest deals.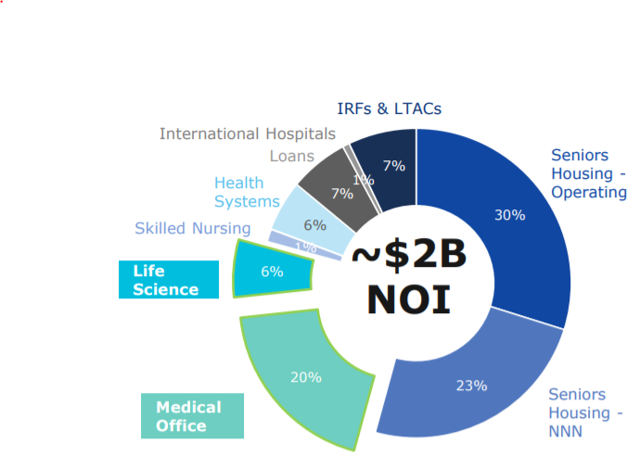 The largest focus is put on senior housing assets with a portion being operated by Ventas itself, and the remaining leased with triple net structures to outside operators. In total, about 53% of the NOI comes from this segment with the remaining being shared between medical offices (20%), life science (6%), health systems (6%), hospital loans (7%), Inpatient rehabilitation facilities & long-term acute care centers (7%) and other.
We greatly appreciate the stronger concentration on senior housing which we consider to be one of lowest risk property out there. Residential real estate coupled with growing demand, superior tenants (better purchasing power of seniors), and less turnover is very attractive to us. It makes for defensive income and potential appreciation over the long run. The main risk here, as with other property types, is potential overbuilding; or put differently, that over the short term, supply growth comes to exceed demand growth and puts pressure on rents and occupancy. In the case of Ventas, we consider overbuilding risk to be well mitigated since the focus is put on high barrier-to-entry coastal markets where demand/supply outcomes are more in favor of the landlords.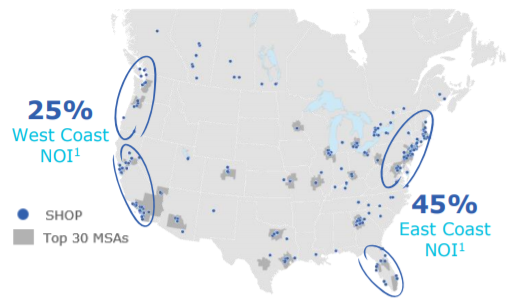 Today, approximately 70% of the NOI is generated from coastal markets where median household income and home values are significantly higher than average:

While the short term may always be affected by excess supply, the long-term picture appears bright for these assets. To repeat ourselves, "location, location, location" is key for real estate investment success, and Ventas is no stranger to this quote. We expect the superior locations of Ventas to result in above-average NOI growth over the long run and higher resilience during times of economic trouble.
Looking at other segments of the portfolio, it is clear that Ventas always seeks to favor the more conservative and higher quality assets versus the lower tier properties despite trading at higher yields.
The medical office and life science portfolios also show strong fundamentals with top credit tenants, long duration leases, and superior locations.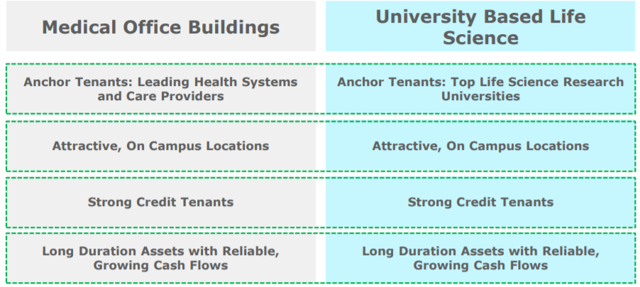 Finally, what attracted us to Ventas is its very low reliance on government-pay for its assets. Currently, a staggering 94% of the income is earned from private pay – reducing the risk of policy changes significantly.
The takeaway here really is the great focus on RISK MITIGATION. The management has done a great job at identifying risk, reducing it, and managing what cannot be eliminated. This is how great returns have been earned with limited risk – an outcome that everyone seeks, but only few achieve.
The Ventas Advantage
The "Ventas Advantage" is how the management calls its competitive advantage in the healthcare investment arena. It is built on three pillars:
Best-in-class management team with high skills and alignment to shareholders.
Valuable platforms with existing relationships to leading operators to source future deals.
Irreplaceable assets with solid fundamentals to result in above average NOI growth.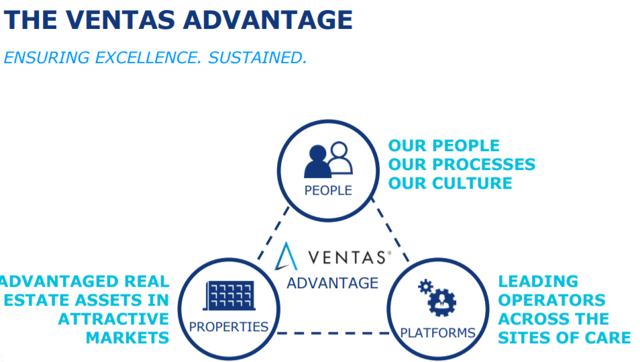 The result of this superior organization is that Ventas has consistently managed to produce excess growth and income compared to its peers in the past. We are not talking about 10 or 20% more here, but a growth rate 2x higher than peers on an annual basis for more than 15 years. This is no accident; you just don't achieve such massive outperformance for so many years by being lucky. It is by putting greater focus on excellence at every level (management, portfolio, operators, balance sheet…) that Ventas was better able to capitalize on the healthcare market.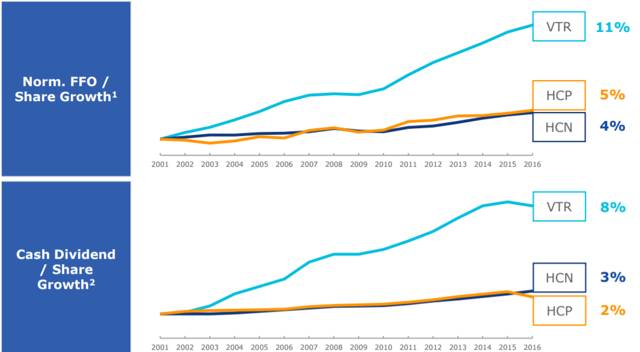 Now, nothing points out that Ventas has lost its "advantage." The management has not dramatically changed, the portfolio quality has just kept on improving, and the valuable relationship to operators is still there. This does not mean that Welltower (HCN) and HCP (HCP) will perform poorly; we are bullish on both firms as they are very similar to Ventas, but feel that the odds are even more in favor of Ventas because of its management. We believe that in the case of Ventas:
Track record of significant outperformance = Above average management quality = Greater odds for continued market outperformance.
Moreover, we note that from a valuation standpoint, Ventas is not getting its well-deserved premium for this management superiority in our opinion:
In this sense, Ventas has it all: a strong portfolio, best-in-class management, and a reasonable valuation. At about 15 times FFO, Ventas pays out a 5.4% dividend yield which is well covered at around 75% of its FFO and expected to keep on growing at a mid-single digit rate.
Assuming that Ventas manages to keep increasing its dividend by 5% on a yearly basis, and the dividend yield remains constant, shareholders would expect to earn a 10% annual return. This is very significant in today's market place where most equities are priced for low future returns.
The real question is: will Ventas manage to keep on growing at 5.4% per year?
Short Term vs. Long Term
In the recent past, Ventas has undertaken large divesture from key sectors such as skilled nursing to reduce the risk profile of its portfolio further. It creates cash flow dilution over the short term, but may enhance shareholder value over the long run. In the last quarter, Ventas undertook over $600 million of strategic dispositions and STILL managed to grow its FFO by 2% despite the high short-term dilution that the dispositions create.
The disposition program will soon be over, and we expect Ventas to return to its growth trajectory. The management has noted that it continues to see great opportunities for further growth across its different business segments.
The healthcare real estate market is huge, and REITs are still in the early innings of their growth potential: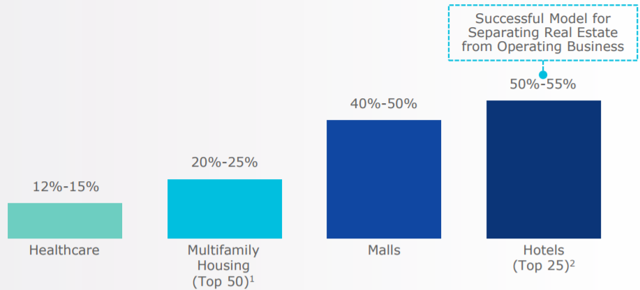 Healthcare assets are widely underowned by REITs compared to other property types – creating substantial opportunities for new acquisitions. As such, we expect Ventas to keep earnings spreads by acquiring new properties as it has so successfully done in the past.
In addition, it is reasonable to expect some NOI growth from the current portfolio given that Ventas owns high-quality assets and that the demand is expected to keep on growing as a result of the rapidly aging population.
Adding together the NOI growth and the growth coming from new acquisition, we believe that the 5% total growth is fairly realistic. The NOI is currently growing at about 2-2.5%, so even little external growth would get Ventas to the targeted 5%.
It will certainly not be a perfectly smooth ride up, but on average, we think that this growth assumption is reasonable in the long run. Ventas has historically managed to grow at an average of 11% per year, so 5% feels doable to us.
To repeat ourselves one last time: 5% dividend yield + 5% growth = very favorable risk-to-reward outcome.
Final Thoughts
The "Ventas Advantage" is real. The company follows a simple but powerful business model of spread investing in a growth market. This has historically resulted in an annual 25% return since 2000.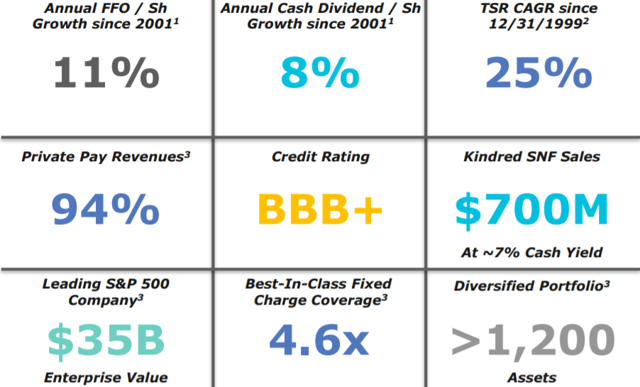 Such track record really speaks for itself… and while we do not expect as much returns in the future, we continue to believe that Ventas will remain an outperformer.
Property REIT Prices can be volatile over the short term, but it is important to note that the fundamental performance of Ventas has been very consistent. The latest quarter once again came to confirm our belief that this "gem" has the potential to keep delivering double-digit total returns the next years to come. The dividend of 5.4% is the icing on the cake.
All images/tables above were extracted from the Company's website, unless otherwise stated.
If you enjoyed this article and wish to receive updates on our latest research, click "Follow" next to my name at the top of this article.
About "High Dividend Opportunities"
Looking for High-Yield stocks trading at cheap valuations?… This is why many subscribe to our service.
High Dividend Opportunities is a leading and comprehensive dividend service ranked #1 on SeekingAlpha, and dedicated to high-yield securities trading at attractive valuations. It includes a managed portfolio targeting 8-9% yield, with the best high-yield MLPs, BDCs,. Property REITs, Preferred Shares, and Closed-End-Funds.
Many high-yield sectors have not participated in the recent big rally and offer a unique opportunity. We invite readers for a 2-week free trial to have a closer look at our strategy and our best picks for 2018, for income and long-term capital gains. Get prepared for a powerful year ahead! For more info, please click HERE.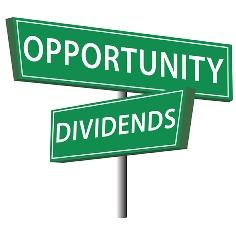 Disclosure: I am/we are long VTR.
I wrote this article myself, and it expresses my own opinions. I am not receiving compensation for it (other than from Seeking Alpha). I have no business relationship with any company whose stock is mentioned in this article.