Ford Motor's (F) have fallen below the $10 price level this week on fears over an escalating trade war between the United States and China and higher expected commodity costs. Though Ford Motor faces some headwinds over the short haul in terms of costs, investors have turned too bearish on U.S. auto companies, in my opinion. Ford Motor makes a promising value proposition below $10 as shares are dirt-cheap and ripe for a rebound. While waiting for the storm to pass, investors get to collect a healthy 6.3 percent dividend.
Disappointing Performance And New 52-Week Low
Ford Motor hasn't exactly been a winning investment in 2018. Year-to-date, the auto company's share price slumped 23.4 percent. This week's sell-off also caused Ford's share price to fall to a new 52-week low @$9.42.
[Note that according to the Relative Strength Index, Ford Motor is now widely oversold again.]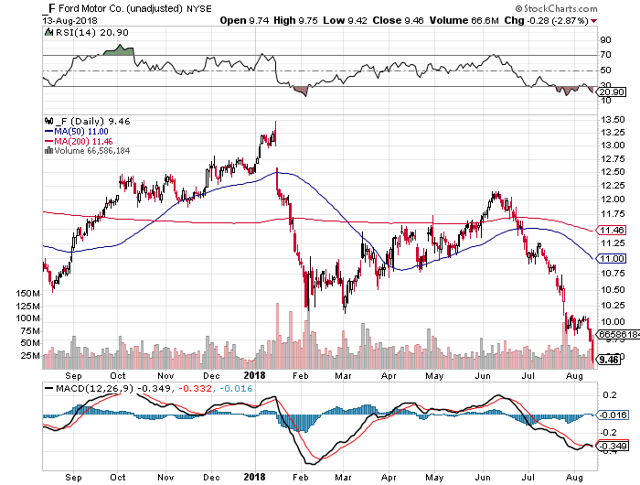 Source: StockCharts
Why Are Investors Spooked?
One word: Tariffs.
The tariff tit-for-tat between the United States and China already drags on for months but went into another round earlier in August when both countries imposed new tariffs on each other yet again. First, the United States slapped an additional 25 percent tariff on $16 billion worth of Chinese imports. China then immediately reacted, imposing a 25 percent tariff on $16 billion of U.S. goods including fuel, steel products, automobiles and medical equipment.
The big fear here is that both countries will continue to escalate the tariff stand-off. Put simply: Investors are currently pricing in a worst-case trade scenario that will lead to billions of dollars in trade lost over protectionist political stances. Auto companies, including General Motors (GM) and Ford Motor have already warned about rising commodity and steel costs, which is expected to negatively affect profitability over the short haul.
That being said, though, I expect the U.S. and China to ultimately resolve their trade dispute at the negotiating table as both countries benefit from increased trade and collaboration over the long haul.
Reduced Adj. EPS-Guidance Weighing On Investor Sentiment In The Short Run
Ford Motor, for instance, adjusted its earnings guidance for 2018, partly due to rising commodity costs. Ford Motor now expects to pull in $1.30-$1.50/share in adjusted earnings per share in 2018, which compares against a previous earnings guidance of $1.45-$1.70/share. The guidance midpoint now sits at $1.40, which is ~11 percent lower than the previous midpoint ($1.58/share).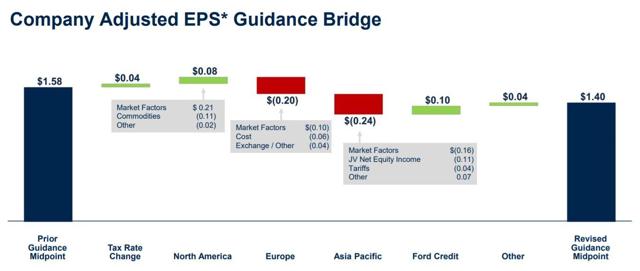 Source: Ford Motor Investor Presentation
Ford Motor isn't the only auto company that has reduced its profit outlook, though. General Motors cut its earnings forecast, too, and so did Fiat Chrysler (NYSE:FCAU).
Ford Motor Is In The Bargain Bin
Ford Motor's shares are dirt-cheap, and sell for less than seven times next year's estimated profits. I think investors have turned too bearish on Ford Motor too fast, which in turn opens up a buying window for income investors with a contrarian bent.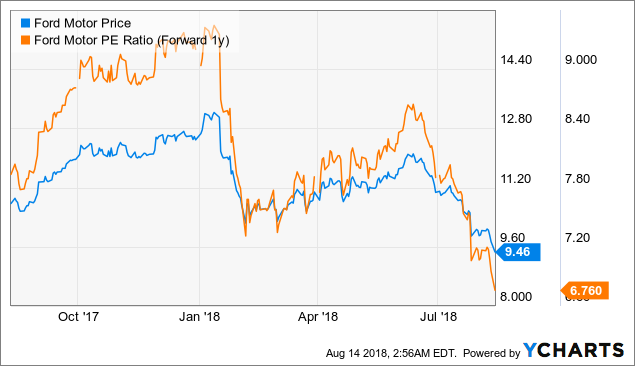 Still An Attractive Yield Play
Ford Motor is, first and foremost, a dividend play, which is worth reminding investors of once in a while. Shares throw off a $0.15/share quarterly dividend, and Ford Motor has paid special dividends in the past as well. An investment in F at today's price point yields 6.3 percent.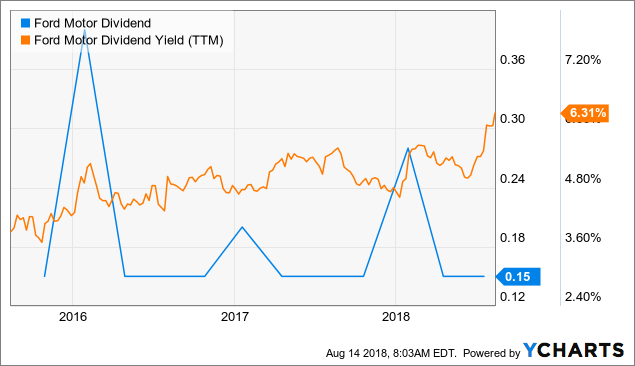 Your Takeaway
Though Ford Motor's share price could certainly drop further over the short haul, shares are already widely oversold, and ripe for a rebound. Hence, I see the drop below $10 as a buying opportunity, but only for those investors that have a higher-than-average risk tolerance and an investment horizon of more than one year. Though the tariff standoff between the U.S. and China makes for some interesting news, the conflict will ultimately be resolved at the negotiating table. For now, investors may want to ignore the noise. Speculative Buy for income and capital appreciation.
If you like to read more of my articles, and like to be kept up to date with the companies I cover, I kindly ask you that you scroll to the top of this page and click 'follow'. I am largely investing in dividend paying stocks, but also venture out occasionally and cover special situations that offer appealing reward-to-risk ratios and have potential for significant capital appreciation. Above all, my immediate investment goal is to achieve financial independence.
Disclosure: I am/we are long F, GM.
I wrote this article myself, and it expresses my own opinions. I am not receiving compensation for it (other than from Seeking Alpha). I have no business relationship with any company whose stock is mentioned in this article.