If you've been looking to open or add to a position on the highly valued stock of Facebook (FB) at a not-too-heavy price point, your opportunity might have just arrived in a limousine – red carpet and all. But the window could be closing fast, and anyone who wants to ride Facebook's success for the long term might need to move quickly to take advantage of what is a loaded political issue but could be resolved relatively quickly.
First of all, the stock is going to bounce back and grow even stronger. A bold assertion, perhaps, but one that can easily be validated by referring to the company's fundamentals alone. In addition, there's enough evidence as well as research to show that U.S. securities markets tend to exhibit knee-jerk reactions to sensational news. Remember the knee-jerk slump when the 2016 U.S. presidential election results came out? Yet, often such a negative market reaction can happen regardless of whether or not the market is actually aware of all the facts. I believe that's what's been happening with Facebook and the Cambridge Analytica scandal over the past few days.
Second, as swift as the negative reaction might be, there's also evidence to suggest that sentiment will swing back in favor of fundamentals and prior valuations as soon as the news "blows over", as it were. It happened during the elections as well. Things were down on November 8, but the very next day, The Wall Street Journal's headline read: "Wall Street Welcomed Trump with a bang."
In Facebook's case the matter might be a little more complicated than an election shocker. The user data scandal could lead to a probe by the FTC even as Facebook distanced itself by kicking Cambridge Analytica and its parent company off its platform and announced that the researcher who provided the data violated the platform's terms and conditions of use.
All the entities involved, including Facebook, have now denied that the user data was used as part of Cambridge Analytica's campaign work for President Trump.
Nonetheless, the stock lost almost 7% on Monday and another 2.6% on Tuesday after dipping more than 6% early on Tuesday. It appears that the storm has blown over for now, but further news could still negatively impact the stock.
And that's your opening if you want to load up on FB, but you might need to move quickly. A brief look at the company's fundamentals should tell you that the market reaction is an aberration – albeit an understandable one – and that things will be back to normal before you know it.
Facebook by the Numbers
For the fourth quarter 2017 Facebook posted strong YoY and sequential growth across nearly every metric possible, including Daily Active Users, Monthly Active Users, Total Revenue, Revenue User by Geography, Advertising Revenue by User Geography, Average Revenue per User, Operating Income, Operating Margin… you get the idea.
The revenue jump from $8.8 billion in Q4-16 to nearly $13 billion in Q4-17 is a 47% growth rate. What company with a half-trillion-dollar valuation grows like that? Well, it's not half a trillion right now because the dip wiped out about 10% of market cap, but that's not likely to last.
I've written several articles on SA where I've highlighted Facebook's growth opportunities for the future, and why the growth slowdown the company has been warning investors about is not likely to happen soon. Besides, considering the synergistic momentum that Instagram has brought to the table of late, we're looking at strong growth in the medium term – at least, until growth in developed markets exhibits the aforementioned slowdown.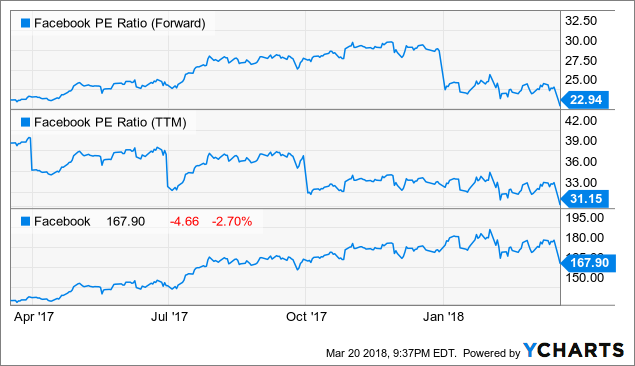 As of this writing FB is trading at around $167, for a TTM PE of 31 and forward PE of 23. Those levels haven't been seen in a while, and not likely to be seen for a while, either.
Regardless of whether or not a possible FTC investigation yields anything, the stock is going to keep marching upward for the foreseeable future. If there's another hiccup along the road, just pick up more FB. The price is already starting to creep back up as of Tuesday's market close so whatever you decide, do it now.
Disclosure: I/we have no positions in any stocks mentioned, and no plans to initiate any positions within the next 72 hours.
I wrote this article myself, and it expresses my own opinions. I am not receiving compensation for it (other than from Seeking Alpha). I have no business relationship with any company whose stock is mentioned in this article.