Introduction
Over the last three monthly stock expirations, we have successfully traded the SPDR S&P 500 Trust (SPY) or other market tracking ETFs – both long or short – into option expiration. Here is a public record of those trades.
In February, we outlined our long position in SPY,
In March, we outlined our short position in QQQ, and
In April, we outlined a long setup for QQQ (we were long SPY at the time).
When the SPY broke below its 200 day moving average today, with many people calling for lower lows, we initiated a long trade in SPY at under $260/share and shared this information with our subscribers. We had actually exited a SPY long earlier in the week when SPY was struggling with its 50-day moving average.
The chart below shows the price action in SPY over the last six months. It has essentially been trading between its 50-day and 20-day moving averages since February with a lot of volatility. The point of control is near $267, which is also near its 50-day moving average. In this case, to reduce our risk profile, we also sold calls at the $267 strike with a June expiration. This will enable us to profit from the elevated volatility.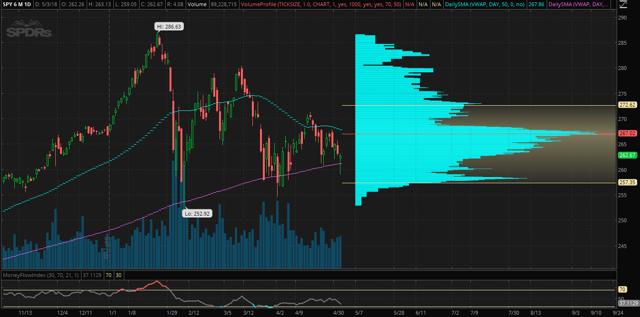 Source: Think or Swim
OPEX Price Magnet
I created the concept of OPEX Price Magnets in June 2017, and have seen how the value of stocks and commodities have tended to exhibit mean-reverting behavior in and around the option expiration date. One point of mean reversion in many markets has been the point where the market is delta- or gamma-neutral on a given options expiration date. We call this point the "OPEX Price Magnet."
The graph below shows the relationship between the S&P index price and the Price Magnet since February 2018. An introduction to OPEX Price Magnets can be reviewed by clicking this link.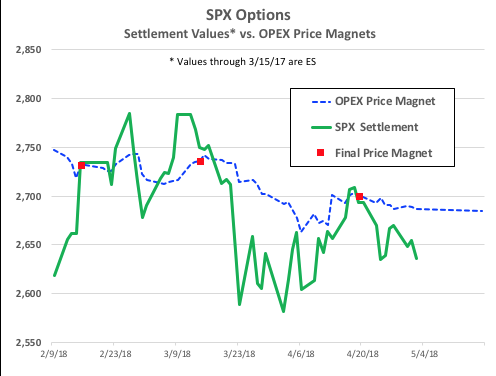 Source: Viking Analytics
The chart above plots two daily data points, and the table below shows several more. June 15th is actually a more meaningful option expiration date than May 18th, since this is the quarterly expiration, and there are considerably more options in open interest in June than there are in May (note the highlighted Magnet Strength below). As a result, we believe that the quarterly expiration Price Magnet will help to keep the S&P index (and the SPY ETF) above the danger zone. It is also possible that stocks will rally substantially above these levels, and possibly mean-revert back later.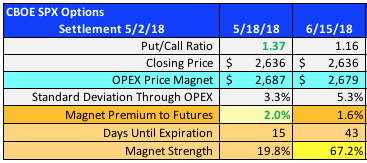 In addition to the S&P 500 Index, the Powershares QQQ (QQQ) and the iShares Russell 2000 ETF (IWM) are both suggesting that techs and small caps could rally modestly in the days and weeks ahead. This gives us more comfort in our long position.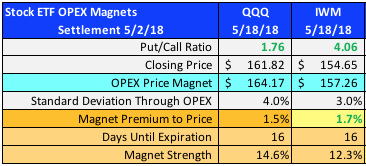 Note: All charts above were taken from Trading View unless otherwise indicated, and all tables were created by Viking Analytics unless otherwise indicated.
Disclaimer: This article was written for information purposes, and is not a recommendation to buy or sell any securities. All my articles are subject to the disclaimer found here.
Commodity Conquest
In my Commodity Conquest service, I write a daily report on the OPEX Price magnets for many key commodities, including natural gas, crude oil, gold and agriculture. I also do in-depth coverage of many commodity firms.
My verifiable trading record from on all completed trades through early May has included a win rate of over 65% with an average return of 2.9% and an average holding period of 11.8 days.

Disclosure: I am/we are long SPY.
I wrote this article myself, and it expresses my own opinions. I am not receiving compensation for it (other than from Seeking Alpha). I have no business relationship with any company whose stock is mentioned in this article.