The financials including Bank of America (BAC) have recently paused after a strong rally in the prior 18 months. A consolidation for the stock can be healthy and offers another opportunity to own the large financial as the regulatory environment continues to improve.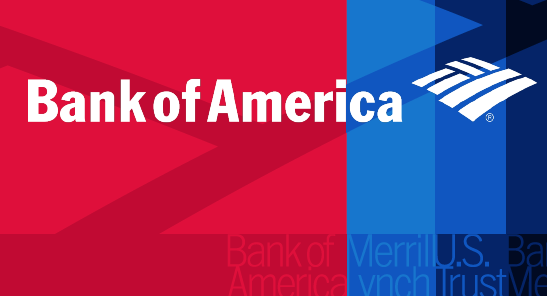 Source: Bank of America website
Operating Leverage Is Key
The market likes to stress out over the interest rate impact on financials and whether the economic activity will drive loan growth, but the goal of an established business should be on simple financial math: Revenues growing faster than expenses.
Over the last few years, BoA has done an exceptional job of generating leverage in the system. Watching sales fall, but pushing expenses down lower or generating revenue growth while still barely cutting expenses. The resulting impact is that the large financial generates leverage each and every quarter due to the current ability of the bank to control costs regardless of the revenue landscape. BoA has achieved at least 5% operating leverage in all but three quarters over the three years.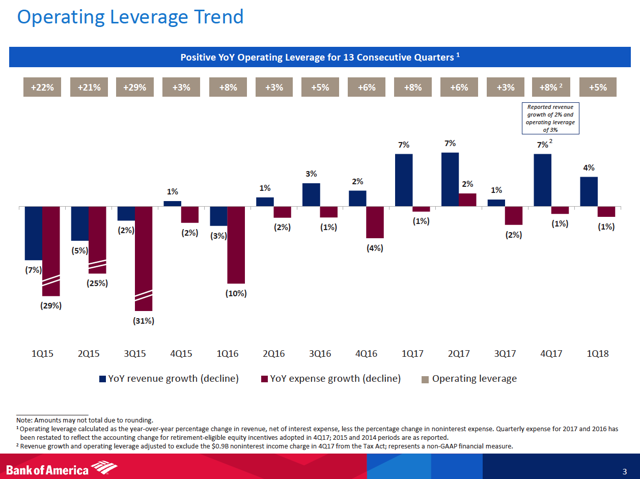 Source: Bank of America Q1'18 presentation
In a lot of ways, this scenario is better than growing at any cost while expenses soar just as fast. Clearly though, it doesn't hurt that BoA is positioned for the rising rate environment. A forecast of a $3 billion benefit over the next year on a 100 basis point shift up in rates is nice, but the bank is still getting higher net interest income from higher deposits and not a higher yield.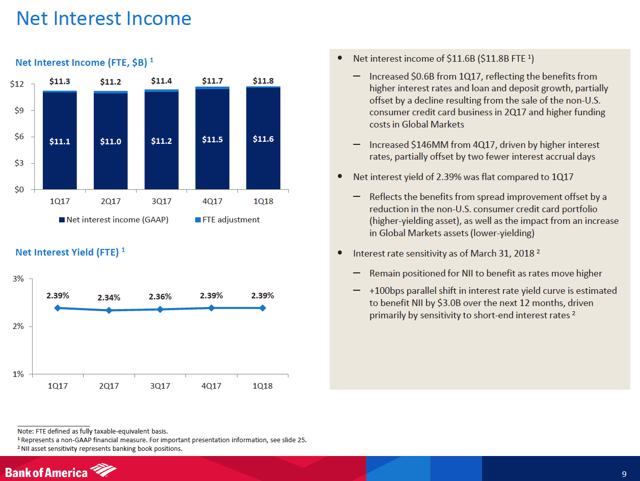 Source: Bank of America Q1'18 presentation
The bigger key remains a management group able to manage the rate environment and mirror that with the cost structure to improve leverage in the system.
Decent Valuation
This discussion leads to why not own a financial with those impressive results trading at a meager 10x EPS estimates. The trend remains one's friend in this scenario with the stock near $30.
The combination of a cheap stock and billions of cash flow generation on a quarterly basis allows for a compelling capital return program that will help boost the EPS in the future on top of the operating leverage boost. The large financial has closed the gap with JPMorgan Chase (JPM) and Wells Fargo (WFC) in the last year. The net payout yield that combines the dividend yield and net stock buyback yield is now virtually equal to that of the other large financials.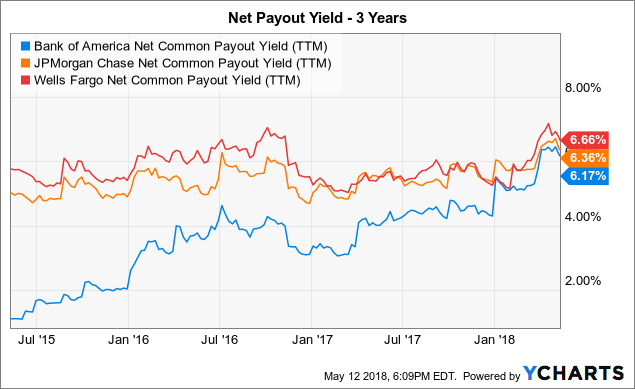 The bank continues to ramp up capital returns, having returned $6.1 billion to shareholders in Q1 alone, a rate that would offer a 7.8% annualized net payout yield. A prime reason to close this gap is that BoA still trades at a discount to Wells Fargo that remains on the radar of regulators due to fraud issues.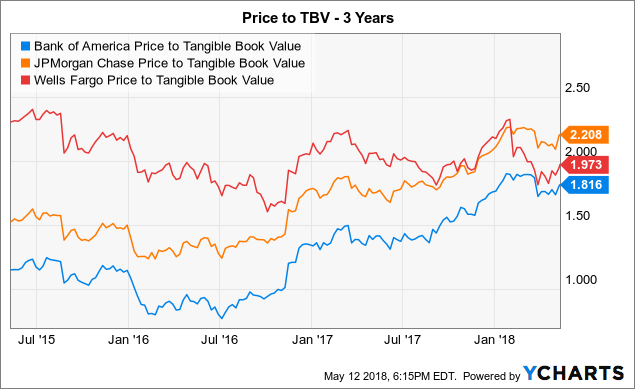 The general financial sector should get a boost from the Attorney General of New York stepping down. AG Eric Schneiderman led the charge on pushing for tougher fraud settlements with large banks over illegal foreclosure practices stemming from the financial crisis after taking over the position in 2010.
A replacement has to be more friendly to large financials based in New York now that the financial crisis is a decade old and the narrative has changed.
Takeaway
The key investor takeaway is that BoA remains a bargain despite the large rally since mid-2016. The large financial has sold off from the recent highs near $35 providing an opportunity to own the stock following consolidation and still trading at reasonable valuations and a discount to peers.
Disclosure: I/we have no positions in any stocks mentioned, and no plans to initiate any positions within the next 72 hours.
I wrote this article myself, and it expresses my own opinions. I am not receiving compensation for it (other than from Seeking Alpha). I have no business relationship with any company whose stock is mentioned in this article.
Additional disclosure: The information contained herein is for informational purposes only. Nothing in this article should be taken as a solicitation to purchase or sell securities. Before buying or selling any stock, you should do your own research and reach your own conclusion or consult a financial advisor. Investing includes risks, including loss of principal.