Murderer's Row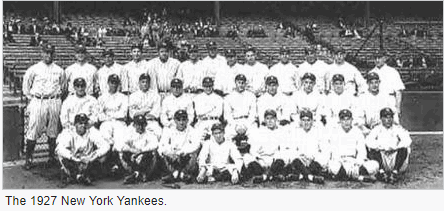 Murderers' Row was the nickname given to the first six hitters in the 1927 Yankees team lineup for their formidable batting averages.
What happened?
Opening arguments begin tomorrow in the AT&T (T)/Time Warner (TWX) antitrust trial. Reports show that the DOJ intends to call an all-star line-up of AT&T's rival firms to testify, starting with Cox Communications' Suzanne Fenwick.
According to the New York Post, Fenwick works in Cox's content acquisition team and the company is concerned about "potential access to exclusive content" by a giant AT&T/Time Warner combination.
Furthermore, the Post states the DOJ will call AT&T Entertainment Chief Content Officer Dan York and question him regarding alleged moves made while running DirecTV content to discourage rivals from signing carriage deals with a Los Angeles Dodgers channel. Sources tell the Post the government's star witness will be controversial.
According to Judge Richard Leon, companies expected to testify include: Comcast-NBCUniversal (CMCSA), Charter Communications (CHTR), CenturyLink (CTL), YouTube (GOOG) (GOOGL), Cable One (CABO) and Sony (SNE).
The stocks of AT&T and Time Warner seem unaffected by the news.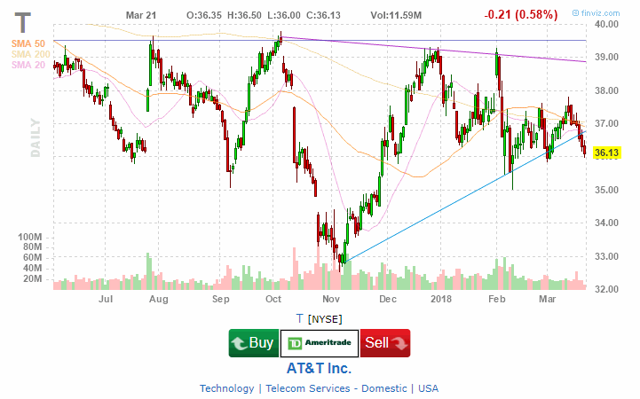 Source: finviz.com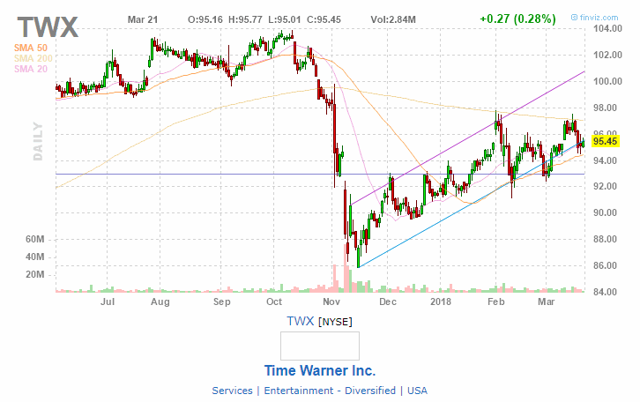 Source: finviz.com
The news in no way, shape, or form shook my conviction regarding my AT&T holdings. In fact, I would be a buyer of any dip at this juncture. Here is why.
AT&T Positives
I have been in the market for nearly 25 years. Managing my portfolio through two major bubbles and corrections has taught me one thing. AT&T can weather any storm better than most. What's more, the company's dividend payouts have remained consistent and sure. Further, the payouts are backed by solid and predictable cash flows.
In fact, history has shown that AT&T does more than twice as well as the market on the whole during times of turmoil. That is why the Beta is 0.37. T is a solid safe haven play. This is why the risk level is low. The fact of the matter is AT&T held up much better than most during both times the bubble burst. On top of this, the company never cut the dividend even with the tremendous pressure placed upon them when the 2008 and 2000 bubbles burst.

Source: dividend.com
I see the recent sell-off as short-sighted. The stock is a buying opportunity at present. Here is why.
Characteristics Of A Solid Investment
While performing extensive due diligence in search of a new opportunity, I am looking for four major factors. The company or security must have:
Solid long-term growth story
History of solid cash flow generation, dividend payouts, and a high yield with adequate coverage
Opportunity for capital gains as well as increased dividend income based on valuation upside and future growth
A positive risk/reward profile
AT&T's stock covers all these bases very well. Let me explain.
Solid Long-Term Growth Story
AT&T has a very precise vision, albeit an extremely bold one. AT&T is transforming itself from a boring, commoditized telecom company to the world's premiere Technology, Media, and Telecom (TMT) provider. AT&T's objective is to capture revenue streams from top to bottom regarding the explosive growth in the TMT sector and increase their margins with the many hidden synergies those writing negative articles on the name not familiar with the business to be unaware of.
I believe many people are vastly underestimating AT&T's prospects for growth. The fact of the matter is AT&T is and has always been at the forefront of most new communications systems and they still own the last mile in most markets places. I submit the two combined will be highly synergistic and provide an immediate boost to the bottom line.
Nonetheless, don't expect any big upward moves in the stock price until AT&T puts the Time Warner acquisition behind it and proves they can make money. I believe they will be victorious in their legal battle. If the case does not go their way and the stock sells off on the news, I would buy more. The fact is AT&T's growth prospects are shooting through the roof right now. The company is a fantastic dividend growth total return opportunity.
Dividend Aristocrat Status
AT&T is a Dividend Aristocrat that has grown its dividend for 33 years straight. A hefty 5.41% yield makes it an ideal investment for dividend growth and income investors alike. The company's solid track record of paying and increasing its dividend essentially acts as a put against the stock price.
Whenever the dividend has begun to climb above 5.5%, investors have swooped in and bought up shares, which appears to be happening as we speak. Another thing I would like to point out is the payout ratio is more than adequate at 66%.
Valuation Upside
AT&T' stock currently has a Forward P/E ratio of 10.54, a dividend yield of 5.41%, and an EPS growth rate expected to be nearly 10% over the next five years. When compared to its telecommunications peers as well as the top S&P 500 mega cap stocks, AT&T comes out on top.
AT&T vs. Telecoms

AT&T vs. S&P 500 mega caps

Source: Finviz.com
AT&T is current trading for well below its competitors and its peers. I posit the stock has conservatively 10% upside potential over the next 12 months. This implies a total return potential of greater than 15%. This is a highly satisfactory return for a Low risk stock.
The Bottom Line
I expect AT&T to win their court battle vs. the DOJ. I do not believe the DOJ has a solid case. AT&T no shrinking violet! I believe they will come to an agreement and the deal will go through. Even if AT&T does not come out on top, they are not going anywhere. Smart phones are now a basic utility for most at this time.
AT&T is the 800-pound gorilla of the telecom sector. During times of market volatility, blue chip mega-cap stocks like AT&T tend to hold up better than the rest of the market. The company is involved in a steadily-growing business and has proven by the test of time it has the attributes to weather any storm. AT&T managed to navigate the Great Recession of 2008 and Dot.com bust of 2000 without cutting the dividend. I have complete confidence the dividend is safe.
What's more, AT&T is investing in its future by creating an entire ecosystem wrapped around the company's wireless network. The acquisition of Time Warner and recent integration of DirecTV will allow AT&T to not only survive the wireless wars, but thrive in a post-war environment. Furthermore, the current best-in-class yield will buoy the stock.
AT&T's dividend yield stands at 5.41% and provides many investors with income today. For retired baby boomers, this superior yield of AT&T and the opportunity for capital gains should be reason enough alone to own the stock.
I maintain the stock is a solid buy right now. I'm hoping for a further pullback in the short-term in order to complete my position with shares accretive to my basis. Investors looking to lock in the superior yield should take any opportunity created by a sell-off to start a position. AT&T will overcome the current competitive obstacles.
The competitive environment in the telecom sector has always been fierce. The unlimited price wars won't last forever. On top of this, 5G should be coming soon which will completely change the competitive landscape once again. And AT&T has a leg up on the competition in this regard.
With a current yield 5.41%, 33 years of dividend growth, and a forward P/E ratio of 10.54 offering the opportunity for valuation upside, now is an optimal time to initiate a position. Those are my thoughts on the subject. I look forward to reading yours. Please use this information as a starting point for your own due diligence.
I recently launched my exclusive research service, Discovered Dividends! I hope you consider joining the group! We are currently offering a Legacy Founding Member's Discount Rate locked in for the life of the service for the next two weeks. Together, we can better navigate the newly volatile markets, identify high-yield dividend opportunities, and profit from them!
So what is it?
Discovered Dividends is an all-inclusive dividend service devoted to providing members with the latest and most lucretive high-yield dividend opportunities with major valuation upside. We look for securities offering both capital appreciation as well as income. The service will perform rigorous due diligence and analysis while striving to construct a managed portfolio containing the best high-yield (7-10%) securities to include, Stocks, ETFs, REITs, MLPs, BDCs, or Preferred Shares trading at favorable valuations.
Disclosure: I am/we are long T.
I wrote this article myself, and it expresses my own opinions. I am not receiving compensation for it (other than from Seeking Alpha). I have no business relationship with any company whose stock is mentioned in this article.